Therapeutic / Remedial Massage vs Relaxation Massage
by Lisa Young – Salon Director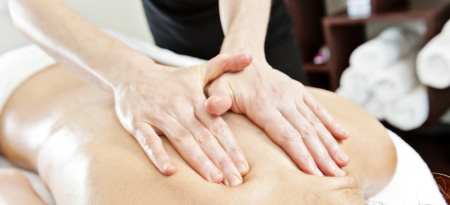 Have you ever wanted a massage but couldn't decide whether you need a remedial massage, an energising massage or stress reducing relaxation treatment ?
Well here's an explanation on what each one is and the benefits of each to help you decide exactly what you need !
Massage for Relaxation
A relaxation massage helps de-stress and loosen up your body. It's particularly great for Clients who have had a hard or stressful working week or for Clients looking for a treat or just some plain old TLC !
The treatment consists of flowing strokes, kneading and gentle manipulations of the muscles that are performed at your chosen pressure. It is a pain-free way to relax both your muscles and your mind.
Normally the treatment room will be set up to promote relaxation. Expect to be treated to relaxing scented candles, warm snuggly towels and floating flowers to gaze at whilst you drift away so you will be guaranteed to feel wrapped in a cocoon of relaxation.
Massage for relaxation uses a variety of massage techniques and mediums. Swedish style is the base for most massage techniques and massage is normally carried out with a medium that promotes slip and slide so that the movements flow smoothly. Oils and waxes are the most common but talc is often used for male clients with more body hair.
There are many variations of massage that use massage tools such as:
Hot stones.

Hot lava shells.

Bamboo sticks.

Cold Marble stones.
Did you know that by adding heat into a massage, it can be 3 times more relaxing and effective in a shorter treatment time. This makes it great for clients that are looking to relieve generally aching muscles but have only a small amount of time !
Hot stone Massage
Hot some massage incorporates heated basalt stones that are used to massage the body instead of directly using the hands. Heated stones can also be placed at a variety of positions on the the body (normally in a fold in a towel such as feet hands and base of spine). Unlike the pictures associated with hot stones these would never be placed stationary on the skin.
Hot Lava Shell Massage
Hot Lava Shell Massage uses uniquely shaped massage tools made of tropical clam shells. The shells have been crushed and combined with ceramics to create a massage tool that looks like an exotic shell. They are fantastic for massage as their shape allow the same manipulations and access to muscles that fingers and thumbs can achieve. They are uniquely heated with natural products that allow for a continuous massage without the need to change the shell over once the muscles have absorbed the heat.
Relaxing massage techniques are great for:
General well being.

Promoting relaxation.

Releasing tension.

Eliminating Toxins.

General aches & pains.
Therapeutic or remedial Massage
If you are suffering from muscle tension or pain, a remedial massage is more likely to be the right solution for you.
Remedial and therapeutic massage techniques are great for:
Promoting general health.

Releasing built up tension.

Relieving stiffness and aches & pains.
Your remedial massage therapist will carry out a thorough assessment as well as testing your movement range and muscles to understand what might be causing your pain. They will explain their observations and tailor a treatment plan to address your individual needs.
The treatment may also involve some deep tissue work, which is more intrusive than Swedish massage but the results are definitely worth it !
Conditions such as stiff neck or shoulders, sciatica, headaches and many more complaints can be eased with a remedial treatment. To get the best results, expect a course of treatments as muscles need to be worked on over a couple of sessions to resolve some issues. You should however expect to see results even after 1 session and indeed a better range of movement. Your therapist may introduce heat or ultrasound as part of advancing the treatment and results.
If you'd like more advice regarding what's best for you, please call us at Studio 8 Beauty 023 92 380 692 to discuss your specific concerns. Or, simply book your appointment and enjoy the benefits.
Quote of the Day
" The body is precious. It is our vehicle for awakening treat it with care"
Buddha