Massage and Body Treatments at Studio 8 Beauty
Wonderfully relaxing … designed to restore body and mind.
Aching muscles & fatigued body? Your professional Dermalogica Skin Therapist will skilfully ease away tensions & stress whilst improving blood circulation & enhancing skin glow.
Studio 8 Signature Massage
A relaxing massage with essential oils using a variety of massage techniques to work deeply into the muscles to relieve tension and soothe the mind and body.
Full Body Massage (60 mins)
Legs, arms, neck, shoulders & back.
Half Body Massage (45mins)
Great for back sufferers, the half body massage is a firm massage to ease away tensions on your back, neck, shoulders, arms, hands and face. It helps to get balance, energise and calm your body and mind.
Back Massage (30mins)
Relaxing massage to relieve and relax muscles and remove toxins. This massage treats the back, neck & shoulders.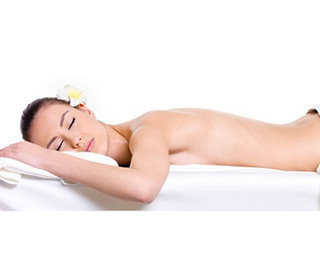 Invigorate & Energise Full Body Massage (60 mins)
This treatment will leave you feeling restored, refreshed and re-energised. Using a combination of international massage techniques and specially blended essential oils to energise including Rose Geranium, Rosemary and Cypress, this massage will awaken your senses as well as encourage circulation, tone muscles and refresh your body. A great massage for anti-cellulite and for reenergising the body and mind.
Relax & De-Stress Full Body & Scalp Massage (75mins)
Feel your stresses and strains dissolve away during this full body massage & scalp massage. Using a blend of essential oils Lavender, Ylang Ylang & Patchouli, to promote relaxation, your Therapist will use massage techniques to soothe away aching muscles, alleviate your stresses and leave you feeling emotionally & physically balanced.
Tailor your massage to add more treatment time. Add 15 mins additional time for small extra cost.  Why not add scalp to a back massage?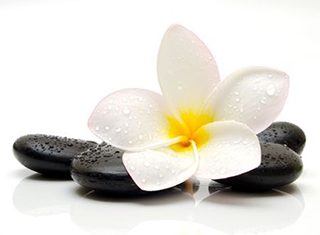 Hot Stone Massage (30-75mins)
A relaxing & spiritual massage using heated stones to penetrate deep into your muscles, relieving tension & balancing the body & mind.
Back (30mins)
Full body (75mins)
Indian Head Massage (30mins)
Relax your mind, body and soul with an Indian Head Massage. This popular treatment helps increase mobility and flexibility in the neck and shoulders, improves blood circulation, lymphatic flow and aids elimination of toxins. It is particularly good for reducing the effects of stress and tension.
Reflexology (60 mins)
Reflexology is an extremely effective form of foot massage. The basis of reflexology relates to "reflex points" on the sole of the foot. These "points" coincide with each organ and system in the body and are linked to those organs by "energy channels", "zones" or "meridians". When illness or imbalance occurs the corresponding "energy channels" become blocked.
During reflexology the therapist will work to remove these blocks therefore allowing the energy to flow freely again.
Reflexology can also be used as an effective form of pain relief as well as a general relaxation treatment and can be taken as an individual treatment or as part of a course.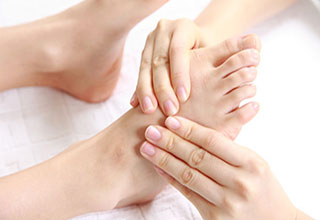 Body Treatments
Dermalogica Back Facial (45mins)
A luxury facial for the back consisting of a cleanse, steam, exfoliate, mask & massage leaving your back feeling soft and pampered, whilst your mind and spirit are soothed and relaxed.
Luxury Body Treatments
Completely customised to either energise or reduce stress, our range of body treatments polishes skin to a soft glow whilst providing critical hydration and nourishment needs. Natural exfoliating products & skin-smoothing enzymes help dissolve dead skin cells naturally for a smooth finish. Natural oils and extracts help stimulate the senses while cleaning and conditioning with the added benefit of the warmth helps to invigorate the mind and body.
We like to change our body treatments regularly. Please see our promotions page for our latest exciting body treatment.