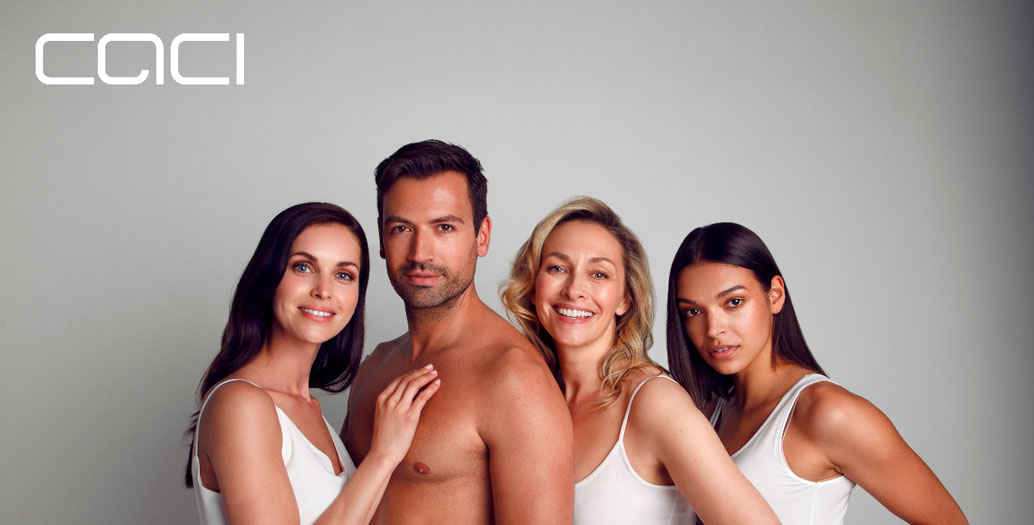 CACI Non-Surgical
CACI's patented micro current treatment targets the muscle delivering results. Our therapists are fully trained in the CACI technique to deliver guaranteed technique & optimum results. Celebrity fans include Jennifer Lopez, Martine McCutchenson, Barbara Windsor & Dale Winton.
For maximum results, a course of 10 – 12 treatments are highly recommended followed by regular maintenance every 4-6 weeks. Single treatments such as the "4 day Ultimate facial" are available for special occasions.
The salon proudly owns the CACI "Ultimate" & "Ultra" machines therefore offering additional enhancements to their treatments such as crystal free microdermabrasion, ultrasonic exfoliation and skin rejuvenation, LED Light Therapy & revolutionary "Wrinkle Comb" as a natural alternative to Botox & fillers.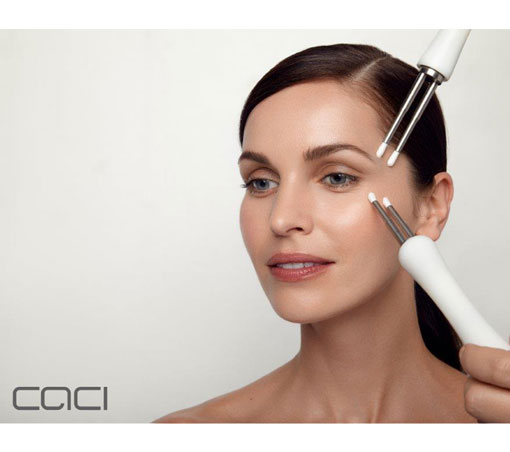 CACI Treatment Menu
Classical CACI Non Surgical Face Lift
A pain free non surgical face lift designed to lift muscles & stimulate skin tone creating a more youthful silhouette whilst softening and smoothing the appearance of lines and wrinkles. CACI uses an advanced micro current technology to help firm and tone the muscles of the face and stimulate elastin and collagen production.
Please ask about our current course savings when booked as a course of 10.
Super Deluxe Non Surgical Facelift
Perfect for clients who want an intense version of the 1 hr treatment with an extra 15 mins to work on areas of muscle laxity. Aimed at more mature skin types and those with specific concerns.
CACI Ultimate Anti-Aging Facial
The ultimate treatment – Great as a single treatment for special occasions & brides. This 4 day face lift anti-aging treatment delivers a combination of non-surgical face lift to create a firmer silhouette, crystal free Microdermabrasion and Hydratone Mask to boost cell renewal and hydrate and wrinkle revolution to stimulate elastin & collagen production. Muscles are lifted and toned and skin is rejuvenated and brightened.
Tripolar Radio Frequency or ThermaVisage Radio Frequency is available as an upgrade to all CACI facials at an additional price. Please ask about our packages available when purchasing as a course. For more details on Radio Frequency please see our Geneo+ Page plus our ThermavIsage Page.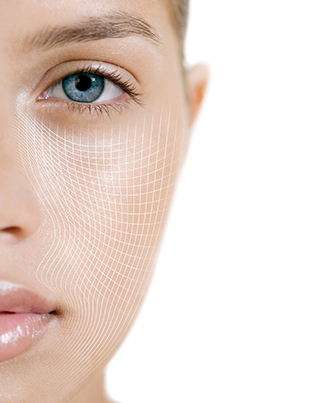 Targeted Area Treatments
CACI Non-Surgical Jowl Lift
CACI Non surgical facelift targeting the jowl area only. The treatment uses the patented quad probes therefore delivering double the micro current for double the results.
CACI Non Surgical Eye Lift
A treatment favoured by younger clientele or those not to be needing the benefits of a full jowl & chin lift. The treatment consists of a combination of micro current techniques to lift & tone facial muscles around the eyes & forehead & to boost elastin & collagen in the skin therefore targeting deep lines & wrinkles and reducing dark circles and puffiness.
CACI Non Surgical Deluxe Eye Lift
Classic CACI eyelift but also includes the crystal free Micro dermabrasion, Hydratone Mask & Wrinkle Comb around the eyes & forehead giving the area a brighter complexion.
CACI Hydratone Mask
The CACI Hydratone Mask is a rose water & hyaluronic facial mask used in combination with micro current to boost skin hydration – great as a standalone treatment or a add on to other CACI treatments.
CACI Orbital Microdermabrasion Facial
Microdermabrasion is a new exfoliation technique that removes dead skin cells by light abrasion revealing the softer more youthful looking skin cells underneath.
The superficial abrasion or exfoliation of the skin also triggers the body's own natural repair mechanism which triggers the production of new collagen and releases glycoaminoglycans in order to rehydrate and replenish the recently abraded area.
This has a remarkable softening action on surface lines and wrinkles. Microdermabrasion can also be used to treat sun-damaged skin and to improve acne but must be repeated periodically to be effective.
This treatment uses CACI's crystal free orbital Micro Dermabrasion combined with Hydratone Mask & Wrinkle Comb LED light therapy to leave your skin glowing with no down time even for the most sensitive skins.
Or upgrade to include Wrinkle Comb to make this a Microdermabrasion Booster Facial – Additional cost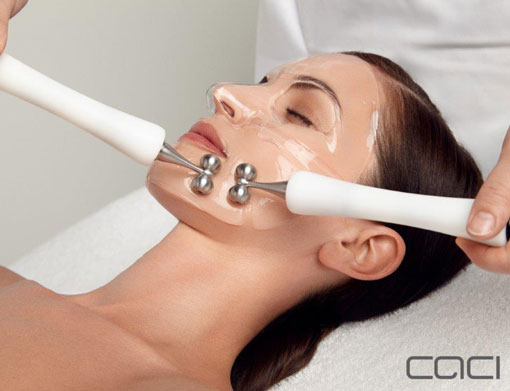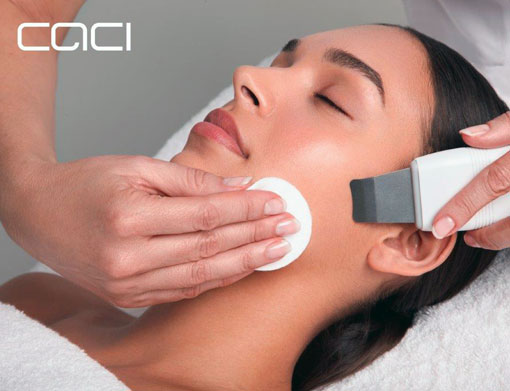 CACI & Dermalogica Problem Skin Microdermabrasion Facial
This treatment delivers a combination of CACI Micro Dermabrasion, light therapy & Dermalogica mediBac or Clear Start products to treat blemished & congested problem skin therefore clearing congestion & reducing the appearance of pigmentation and scarring.
Please note that all our CACI facials are upgraded to Dermalogica professional skin care products (unless stated otherwise) in order to provide your skin with innovative and beneficial ingredients for ultimate results at no additional cost and that we do not use the plastic CACI Serum Buds as they do not meet our salon environmental objectives.