CACI Synergy Specialist Treatments
CACI non-surgical treatments offer advanced solutions for all skin types. So whether you are looking for a solution to:
Heal problem skin and acne.

Reduce pigmentation or scarring.

Anti-ageing treatments.

Skin rejuvenation.

Reduction of fine lines & wrinkles.

Improve collagen and elasticity.
CACI has a treatment for everyone! Our team of CACI specialists have a comprehensive knowledge of skin and the CACI Treatment System and can design a treatment program to suits your specific concerns. We deliver all treatments combined with advanced skincare products and can include other technologies such as Radio Frequency, skin peels and skin needling as well as home skin care and lifestyle advice.
For skin care that WORKS ...
About CACI
CACI is an award winning non-invasive aesthetic treatment. It has over 2 decades of innovation & expertise in the beauty industry and can be found in over 10,000 of the world's leading beauty salons, hotels, spas and aesthetic medical clinics including: Harrods, Harvey Nichols, Champneys, Estée Lauder Spa, Transform Medical, Regis, SKN Clinics, Virgin Active, David Lloyd, Four Seasons, Ritz, Carlton and many more… You now get a more intense treatment and enhanced results with the new CACI Synergy system that incorporates LED light therapy into every movement in your facial resulting in a greater lift & skin rejuvenation result.
Why Choose CACI ?
CACI "Non- Surgical Facelift" system is a world acclaimed treatment and its technologies are firmly established as innovative, industry leaders.
CACI treatment systems truly deliver visible and corrective results without the need for surgery or invasive procedures establishing CACI in the forefront of facial & body toning, as well as anti-aging technologies.
The dramatic results are achieved via CACI exclusive technologies and as a result has generated huge demand for CACI treatments and attracted an impressive celebrity following including royalty, television and movie stars as well as super models, beauty editors and make-up artists around the world. For this reason the treatment is often described as the "Red Carpet beauty secret".
Stand-alone facial treatments are available for special occasions but for ultimate results treatments are recommended as a course of 10.  Just think of CACI as the ultimate gym workout for the face!
CACI Specialist Treatment Benefits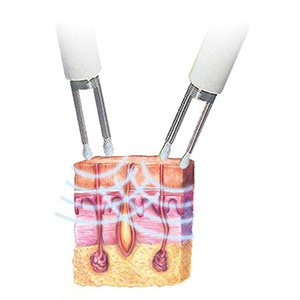 Micro Current
Lifts & tones facial muscles

Reduces appearance of fine lines and wrinkles

Increases the production of collagen and elastin

Increases blood and lymph circulation

Enhances the penetration of skin care products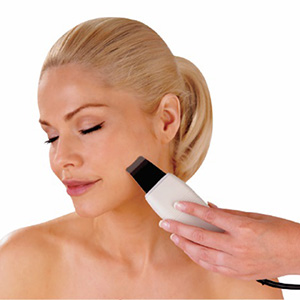 Ultrasonic Skin Peeling
Cleanses and revitalises

Destroys bacteria

Reveals younger looking skin

Enhances absorption of skincare products

Stimulates and improves circulation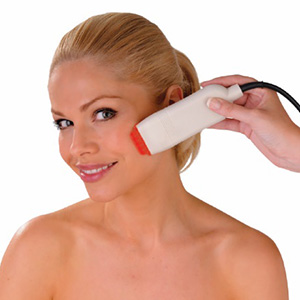 CACI Wrinkle Comb
Stimulates collagen production

Reduces wrinkle depth

Encourages tissue repair and healing

Speeds up cell renewal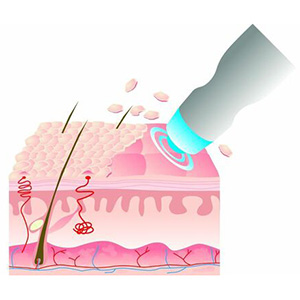 CACI Orbital Microdermabrasion
Exfoliates and deeply cleanses

Removes imperfections and impurities

Leaves the complexion clearer, smoother and more youthful looking

Results visible after just 1 treatment
Studio 8 CACI Clients – before and after treatment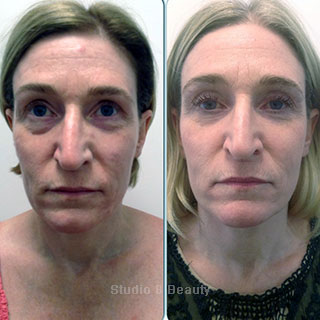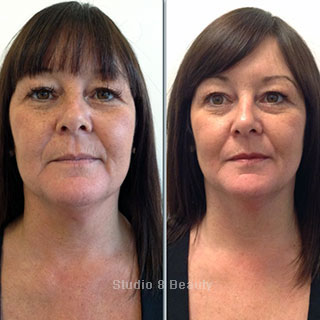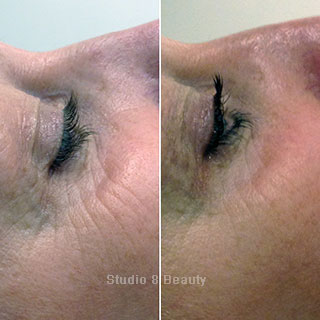 Our Range of CACI Specialist skin care treatments
Please visit our CACI Skin care treatments page for more information on the following treatments:
CACI Signature Non Surgical Face Lift.
CACI Synergy Advanced Red Carpet Non surgical Facial Toning.
CACI Synergy Non-Surgical Jowl Lift.
CACI Synergy Eye Revive
CACI Synergy Hydratone Mask.
CACI Synergy Orbital Microdermabrasion Facial.
CACI Synergy Purifying Facial.
CACI Synergy Skin Calm Facial
CACI Specialist treatments F.A.Q's
What is micro current ?
Micro current therapy delivers tiny electrical impulses that mirror the body's own natural bioelectrical field. Micro current stimulation therefore helps to re-educate the muscles and can lift, firm and tone.
Micro current in aesthetics is commonly described as "facial toning" or "non-surgical face lifting" due to the dramatic lifting effect that it has on facial muscles and contours.
What is S.P.E.D™ micro current LED technology ?
S.P.E.D™ (Simultaneous Photo Electrical Delivery) micro current LED technology harnesses the power of LED light therapy at the same time as using CACI micro current. The powerful, high brilliance LED uses pulsed and continuous wave lengths for enhanced treatment results.
What does micro current feel like ?
Microcurrent treatment is virtually sub-sensory with just a slight tingling sensation. Customers often describe it as an energised or warm sensation on the skin and is virtually painless. CACIs patented micro current is not available in any other micro current suppliers and is unique to CACI.
Is micro current safe ?
Yes. Microcurrent therapy was originally developed as a medical application to treat facial palsy and restore muscle tone by applying tiny micro current impulses to the affected muscles. Today this proven technology is now available in thousands of aesthetic clinics worldwide as a painless cosmetic treatment.
How many treatments should I have ?
Although a remarkable difference is seen after the first treatment, the benefits of micro current are cumulative and typically a course of 10-15 treatments will be required for optimum results. Your therapist will take pictures at the beginning, mid-way point and end so illustrate how your contours and skin have improved.
What happens after I have finished a course of treatments ?
After a course of CACI Non-Surgical Facial Toning treatments you will see real improvements in how your skin looks and feels. Your facial contours will look lifted and toned with a fresher, more youthful appearance. A monthly top up treatment is then recommended to maintain results.
What happens if I stop treatments ?
It's just like going to the gym for a body workout. If you stop, the results will gradually diminish and your facial muscles may eventually return to how they were before treatments commenced. Treat your CACI treatment course as an investment in your skin after all you wouldn't have a tummy tuck and allow yourself to become overweight!
Will there be any recovery or downtime after my treatment ?
No. CACI treatments are non-invasive and gentle on the skin so there is no interruption to your lifestyle. We do, however, recommend that skin is protected with a higher level SPF for 24 – 48 hours post treatment as part of the aftercare.
What is orbital microdermabrasion ?
The unique crystal-free microdermabrasion offers a precise and controlled skin exfoliation. The procedure diminishes fine lines and imperfections to achieve a smoother, more radiant complexion. The treatment is unique as it combines orbital skin resurfacing with LED light therapy to provide a gentle exfoliation for sensitive skin or a deeper exfoliation for thicker or sun damaged skin allowing for further stimulation of the skins regeneration process and further enhanced results
What does orbital microdermabrasion feel like ?
The treatment doesn't hurt at all. There are 'no dragging' and 'no pulling' techniques on the skin making the treatment very comfortable.
What is ultrasonic peeling ?
The CACI unique ultrasonic peeling hand piece vibrates on the skin (27,000 times per second) to gently exfoliate and revitalise. The vibrations draw skin impurities to the surface and dislodges dead skin cells revealing a healthy, glowing complexion. This is a gentler alternative to orbital microdermabrasion.
What does ultrasonic peeling feel like ?
The ultrasonic peeling treatment creates a warm and energised feeling on the skin and is a very comfortable treatment. You may hear a subtle vibration as the skin is exfoliated or deep fed beneficial ingredients but in all this is a very comfortable treatment and the results are amazing.
What is LED Light Therapy ?
LED Light Therapy utilises the therapeutic properties of red light and blue light to calm the skin, neutralise bacteria and reduce redness in order to help tackle acne, blemishes and scar tissue. Blue light calms the skin and destroys skin bacteria and red light stimulates new tissue growth and cellular regeneration. Combined red and blue light is extremely effective in the treatment of acne and blemishes.
In what circumstances is treatment not advised ?
A full consultation is always given prior to treatment to assess suitability for treatment. Treatment is not advised if you have any of the following conditions:
All forms of cancer

Pregnancy

Epilepsy

Diabetes

Heart condition/cardiac pacemaker

Thrombosis

Facial implants (if treating face)

Skin disease (avoid area)

Skin lesions

Recent surgery (performed within the last 6 months)

Areas being treated with Botox® should be avoided (wait 3 months)

Areas being treated with dermal fillers should be avoided (wait 2 weeks)
Note:
Anti-depressants, high blood pressure and other muscle relaxants may reduce the effectiveness of the treatment. In these cases more treatments may be advised as part of your course. Your therapist will be able to advise on consultation.
Please note: If you are taking any medication or have an existing medical condition or concern not listed above, please consult with your doctor first.