IPL (intense pulsed light) and SHR (super hair removal) Treatments
Are you fed up with shaving or waxing ?
IPL removes the inconvenience of shaving along with the discomfort from home epilation devices and the frustration of waiting for a growth cycle for your next waxing hair removal appointment!
IPL is perfect for hair removal – say goodbye to body hair problems and be bikini ready and fuzz free every day! Banish the between waxing treatments and razor rash!
What is IPL?
IPL (intense pulse light) is a light therapy treatment that can be used for a variety of treatments including permanent hair reduction.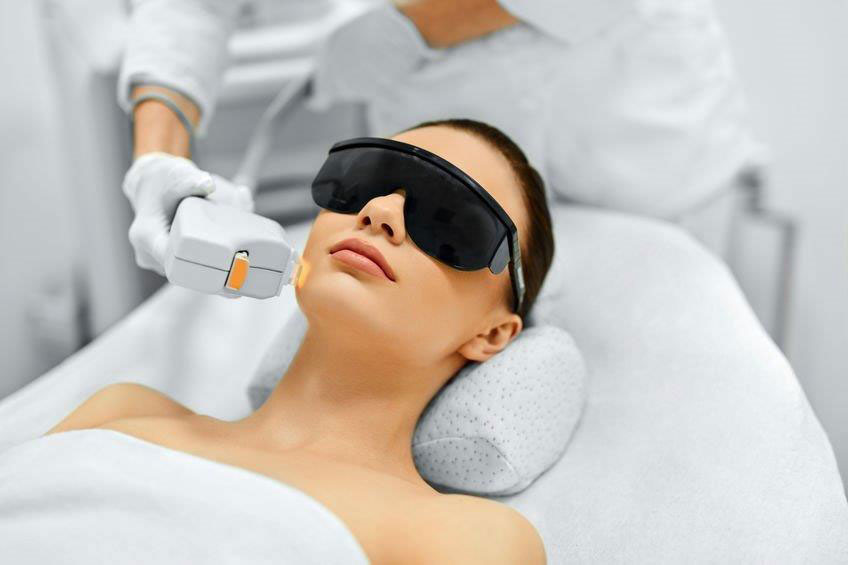 It can also be used for variety of skin concerns including:
Thread vein removal ( also known as spider veins).
Skin redness.
Rosacea.
Pigmentation.
Acne treatment.
Skin rejuvenation.
So if you want to ditch the razor and embrace super smooth legs, be hot date, spa or swimming ready every day with no embarrassing face fluff or beard stubble or reduce skin redness or even banish problem skin and dark pigmentation for a rejuvenated complexion, look no further than IPL or SHR.
Your Questions and Answers on IPL
How does IPL work ?
IPL uses small pulses of laser light to treat a variety of skin concerns and also offers permanent hair reduction. The system uses a variety of filters that target specific skin concerns as well as hair removal.
What is SHR IPL ?
SHR (super Hair removal) is the fastest hair removal method and virtually pain free with the help of cryo freeze cooling technology. Perfect for treating larger areas which means it's more cost effective and faster for you.
What technology does Studio 8 Beauty have ?
Studio 8 Beauty has both IPL and SHR technology.
How effective is IPL ?
The effectiveness of IPL treatments is good, but varies from person to person, and treatment to treatment. Many people get great results. This will be explained during your consultation.
Hair Reduction: For example, it is called "permanent hair reduction" because hairs are permanently reduced. The body has many follicles and they are not all producing hairs and so they cannot be treated. At some point they can start producing hair in which case you may want to have maintenance treatments, or you might be fine with the odd hair and it can be much finer and lighter.
Thread vein removal: Even though an area has been treated, other thread veins can develop over time. Taking care with sun exposure, protecting your skin from the elements and being careful with not over-blowing your nose can help. It is said that a good Vitamin C supplement with help with strengthening blood vessels and therefore help prevent capillaries breaking so easily.
Rosacea reduction: Rosacea is caused by a number of factors including stress. This treatment will help to reduce an episode of rosacea. It can not cure rosacea.
Pigmentation reduction: This can be an amazing treatment to reduce pigmentation though as soon as you start to have sun exposure again it can bring back the pigment. Taking extra care with sun exposure and practising "safe sun" will delay any return.
Acne treatment: There are many factors including hormones. This treatment helps with the external symptoms and if in conjunction with looking at your skin care and diet this treatment can help break out of the cycle and to move forward.
Skin rejuvenation: Our skin is always aging, it is one of the joys of knowing we are fortunate to still be alive. IPL skin rejuvenation may help to turn back the clock but it won't make us 21 again!
What does it feel like ?
Some people may describe an IPL shot as similar to a small elastic band flicking onto the skin, followed by a warm sensation. It is often described as being more comfortable than waxing. The sensation of IPL will vary from person to person, and for some women, similar to waxing, sensation may depend on the time of the month.
Do I need a patch test ?
Yes. This is done during the consultation once we have discussed and established your skin type. The consultation covers a variety of questions so we really understand your medical history and how it relates to the treatment.
One reason for doing a patch test is to ensure the settings are comfortable for you and that we know and understand your skin & medical history for a safe and effective treatment.
Side effects can still happen which is why the patch test is small & less obvious place where possible, and then we wait to monitor the skin from 24 hours to 14 days depending on your skin type and treatment.
How many and how often will I need treatments ?
The number of treatments differ from person to person:
For IPL hair reduction on areas such as the face, underarm, bikini expect 6-8 treatments, 4-6 weeks apart.
IPL hair reduction on arms, legs and back expect 6-8 treatments, 6-8 weeks apart.
Everyone is different such that some people have great results two treatments. Clients with hormone issues may need 10 sessions or more.
Pigmentation, veins and acne treatments
Once again, the number of treatments differ from person to person:
On average for pigmentation & veins treatments you should expect 3-6 treatments which are 4-6 weeks apart.
Acne you should expect 3-6 treatments which are 1-2 weeks apart.
Again, results vary with some having great results after one or two sessions and others requiring more.
Everyone is unique and results and number of treatments depend on skin tone, skin type, medical history and a variety of other factors.
Will I need to maintain treatments after a course of treatments ?
After the course of treatments have completed, most conditions may require maintenance treatments from 6-12 months apart to every few years. Some people may find that some conditions are not successfully treated at all. Permanent hair removal is technically not achievable which is why we refer to permanent hair reduction instead. This is because dormant hair follicles may become active after your treatment course which means that they start to grow. If this happens this is often a couple of treatments to maintain.
Why do you need a consultation & Patch test ?
A consultation is a question and answer session to determine your expectations from the treatment and whether you are suitable for treatment. If you are suitable, a patch test will be carried out on a small patch of the treatment area to see how you respond. If both are successful, then we can go ahead with a full treatment.
What may stop me having IPL treatments ?
There are a number of scenarios where a IPL treatment may not be possible to be carried out:
Recent sun exposure such as sun bathing & tanning beds1 month before or after treatment. Increased pigmentation in the treatment area can lead to burning during treatment and sun exposure after treatment can lead to abnormal pigmentation or could make you more photosensitive.
No spray/artificial tan for 10 days before a treatment.
Medications that make you photosensitive will require delaying IPL treatment until the medication has been completed and sufficient time elapsed to clear your body.
Conditions that may prevent treatment include:
Heart disorders
Pacemaker
Blood clots
Cancer
Epilepsy
Treatments or issues, that may delay treatment, include:
Pregnancy
Allergies
Fresh anti-wrinkle injections
Other cosmetic injectables
Scarring or tattoos in the treatment area
Which skins are best for IPL & can we guarantee results ?
The best candidates for IPL are normally the ones that are more sensitive to burning! This is because IPL hair reduction and acne treatment may not be possible on the darker skin tones. In addition IPL pigmentation and vascular (thread vein and rosacea) treatments may not be possible on darker skin tones.
Other factors that may prevent or delay treatment include unrealistic expectations. We always work on the basis that we under promise and over deliver and the consultation is where we would normally set expectations that are realistic. We cannot guarantee results because everyone is so different but we have enough knowledge to help you understand this and to give you the best treatment result possible for your skin and condition.
Why is a course of treatments so expensive ?
IPL treatment costs are reflected by the start-up and running costs, including:
A UK-sourced CE-compliant IPL machine, typically costing over £10k.
Limited-lifetime treatment hand-pieces.
Training & skill of staff to ensure that they are competent operators (it is not a short day course).
Annual public liability and treatment risk insurance.
Treatment room costs (rent, utilities, consumables).
Unfortunately, someone offering very cheap IPL rates may be operating with a substandard machine that is not maintained regular and firing substandard shots or may not have adequate training and insurance. Please feel free to check our credentials at any time.
Are you registered or licensed ?
IPL practitioners do not need to be registered. Instead, we are trained and certified to NVQ Level 4 in Laser and Light Therapies with Core of Knowledge certificates, and are fully insured.
Are there alternatives to IPL ?
Alternative hair removal treatments include:
Shaving
Epilation
Depilatory creams
Electrolysis
Waxing
Laser
Some of these treatment may be more suitable for you if you are contraindicated to IPL.
Alternative pigmentation treatments include:
Chemical peels
Skin brightening creams
Laser
Alternative vascular treatments include:
Laser
Sclerotherapy
Electrolysis (ACP Advanced Cosmetic Procedures)
Alternative acne treatments include:
Diet
Specialist supplements
Various medications from your GP
Laser
Have we had IPL ourselves ?
Yes. Our staff have had a variety of hair removal treatments as well as treatments for pigmentation, red veins, acne & anti-ageing. Only this way can we explain what it feels like to have these treatments and the results you can get.