Cosmetic Skin Peels
Revitalise Your Skin's Radiance with Professional Cosmetic Peels.
Book Treatments
What are Cosmetic Skin Peels ?
Cosmetic Skin Peels are the most gentle form of stimulating the skin's natural healing process. It is an amazing alternative for needle phobic Clients ! Also known as a Chemical Peel, skin peels treat the skin using AHAs (Alpha Hydroxy Acids). Chemical skin peels are an advanced form of exfoliation as they stimulate the dermis and epidermis and support skin renewal. TCA Peels work even deeper in the skin to create amazing results.
Cosmetic Skin Peels can be used to treat:
Hyperpigmentation
Sun damage
Acne
Dry or flaky skin
Fine lines and wrinkles
Dull/ lack lustre skin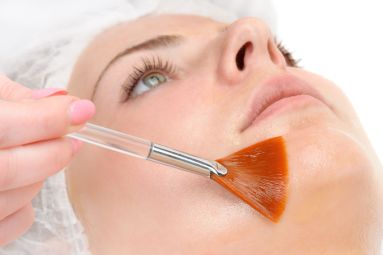 An advanced aesthetic treatment such as a cosmetic skin peel can help remove dull, unhealthy skin cells and boost the formation of healthy cells underneath the skin. Glycolic Acid chemical peels as well as Other AHA peels are available at a strength and depth to best suit your individual needs and the use of technology including LED Light Therapy for optimal results and no down time. There are 3 types of skin peel – superficial skin peel , medium depth skin peel ( also known as a TCA Skin Peel) , medical peel. At Studio 8 we offer superficial skin peel & medium depth TCA skin peels.
Price £85 – £126
The cost of your treatment will depend on the peel and the treatment area. Our prices range from £85 – £126 and includes aftercare products.
Please contact the salon to discuss your specific needs and your ultimate skin peel treatment plan for optimal results or see below for an initial guide.
AlumierMD Skin Peel
Revive your complexion with an AlumierMD Radiance Peel or AlumierMD Glow Peel.
AlumierMD chemical peels will rejuvenate your skin to reveal more youthful, softer and smoother looking skin without any of the side effects associated with invasive treatments. The benefit of AlumierMD Skin Peels is that they can be tailored bespoke to your skin and treatments can be progressed each visit to give enhanced results.
It can be used to address a number of skin concerns such as:
Hyperpigmentation (Pigmentation & age spots) – all types
Skin aging – lines & wrinkles all stages I-IV
Acne grades – 0 to 4
General skin health
All our peels are safe and are carried out by trained and experienced practitioners. They can be offered as part of a bespoke treatment plan.
We recommend booking a complimentary skin consultation to assess your skin needs.
Price: from £126 depending on treatment area
BioRePeel 35% TCA Peel
BioRePeel is an innovative peel treatment. Using a patented 2-phase technology it is both bio-stimulating & revitalising on the skin. The result is a mild exfoliation combined with an improved structure of the skin.  BioRePeel TCA Peel is suitable for all skin types, including those with fine line wrinkles, acne, fresh scarring and blackheads.
This TCA Peel is unique because the ingredients of the peel work in synergy to restore the optimal physiological conditions of the skin to not only have a peel effect but also to restore the skin conditions with its antioxidant and moisturising action.
BioRePeel TCA Peel is perfect for:
Reducing Photo-damage
Reducing pigmentation
Treating acne scars
Anti-ageing
Treating areas on the face & body including elbows, back, knees, hands & arms
Price: from £85 depending on treatment area
Frequently Asked Questions
What are cosmetic skin peels ?
Cosmetic Skin Peels are treatments used to improve the appearance of the skin on your face, neck or hands.
Each chemical peel uses a specially formulated solution with approved acids to exfoliate and peel off the top layers of your skin to stimulate skin cell renewal and reveal new, regenerated cells underneath.
After your treatment, you should see a visible improvement in problems such as fine lines and wrinkles, hyperpigmentation, brown spots, red spots, sun damage, acne and dry, flaky skin.
How do I know which chemical peel is right for me?
Chemical peels work at different depths. Superficial peels will only remove the outer layer of your skin and gently exfoliate. A superficial peel is much gentler on the skin and can be used to enhance another aesthetic treatment such as mesotherapy or as standalone procedures that can boost the health and appearance of your skin.
Our Medium Depth Peel or TCA Peels has minimal down time with maximum results due to it's innovative 2 phase formula.
Are chemical peels painful?
Superficial peels that use, for example, glycolic or alpha-hydroxy acids are much gentler to the skin yet are very effective for the majority of most Client's needs.
When a chemical peel is applied it can cause a slight sting or small measure of discomfort but it is very manageable.
Some Clients may experience some stinging, redness, irritation (and whilst very rare) crusting. This is perfectly normal and your skin should adjust so that these issues resolve themselves.
Our BioRePeel Medium Depth TCA Peel is surprisingly manageable with clients often reporting that the tingling is very mild.
Do I need to prepare my skin for treatment?
Yes
No waxing 36/72 hours pre treatment
No sun exposure 2 weeks prior
TIP – Advanced treatments are an investment in your skin. We highly recommend that you book a skin chat in advance of your treatment to discuss products that will prepare your skin in readiness for your treatment. Our expert skincare professionals can recommended professional products that will work in correlation with your treatment and ensure optimal results with least risk of down time
Is there any Aftercare?
Yes, correct aftercare should be followed after treatment to maximise results.
No heat 24/48 hours only warm water to gently cleanse
Do not wax 36/72hours post treatment
No excessive exercise for 24 hours
Minimum Spf 30 48 hours post treatment but ideally always to preserve results
We recommend applying only our recommended professional
No swimming 48/72 hours as chlorine can dry the skin and because of the risk of infection
Mineral make up only 12-24 hours post treatment
Always ensure your hands are clean before applying products to avoid infection
No sun exposure 2 weeks before/after treatment
 An Skin Peel aftercare kit is included with all Skin Peel treatments at no extra cost.
TIP – Advanced treatments are an investment in your skin. We highly recommend that you book a skin chat in advance of your treatment to discuss products that will prepare your skin in readiness for your treatment and that you can use post treatment to enhance results. Our expert skincare professionals can recommended professional products that will work in correlation with your treatment and ensure optimal results with the least risk of down time are achieved.
How many treatments are recommended?
Results can be obtained by a single treatment but a course of 4-6 treatments are recommended for Clients seeking ultimate results. These can be done weekly to fortnightly depending on the specific Client's skin type and needs such as pigmentation. Your skincare professional will advise on your specific skin concern.
What can I expect after a chemical peel?
All skin peels require some follow-up care. With both our superficial peel and TCA peel, you may find that life can carry on as usual, although it can still take between one and seven days for your skin to heal and as long as the correct aftercare followed.
Our peels and treatments are carefully selected to keep any redness or skin flakiness to a minimum.
We will always recommend suitable aftercare products to manage your skin after your peel. You should expect to wear a high factor SPF sun cream for at least 48 hours post treatment as your skin will be more vulnerable to sun damage. Make-up can usually be worn the day after your treatment and we highly recommend mineral make up such as Mii Minerals.
Don't worry if you cannot remember everything we have explained following your visit as we will give you written aftercare instructions for any treatment to look after your skin before and after.
We may recommend that you use specific skincare products before or after your chemical peel treatment to prepare your skin for the procedure and maximise the results.