Goodbye to Eyelash Curlers – say hello to Eye Lash Lifts !
By Lisa Young – Salon Director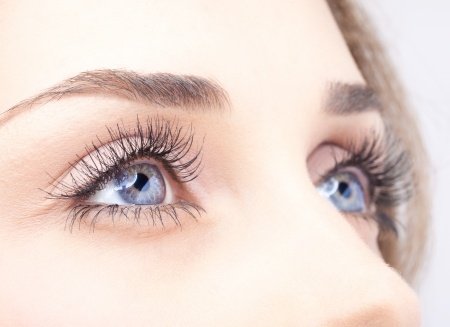 Eye lash lifts are now the latest must have beauty salon treatments.
Not only do they give you the freedom to go without mascara but they also open up the look of your eye.
This creates a wide eye effect and making your eyes look brighter and bigger with or without make up.
And … if you prefer to wear mascara, you will find that the lash lift gives your lashes an extra lift making mascara much easier to apply.
What is an eye lash lift ?
The eye lash lift concept is nothing new and has been around for years. It is the modern day version of an eye lash perm. So whether you have an eye lash lift or eye lash perm you will still get the same effect. (It's just down to what is used to lift the lashes).
There are many brands of eye lash lifts available but they all offer the same process. It's rather like having a hair perm but on your lashes.
Here is a brief over view of what to expect from an eye lash lift (or perm):
First, the therapist selects the correct size lash lift silicone or lash rod to suit your natural eye lash length. This is carefully placed over your eye lid and secured with a special eye lash lift glue that is designed for use with eye lash lifts. After the treatment it dissolves away with the final nourishing step.
Your lashes are then combed upwards over the eye lash lift silicone or eye lash perm rod. They are then secured with the special glue, evenly spread and arranged so that the eye lash lift gives an even spread and flare to the lashes.
The lashes are then set and fixed using special non drip gel products after which they are finished with a special nourishing eye lash conditioner. (a bit like conditioning your hair after a treatment to re nourish your lashes and leave them silky and soft).
A tint can also be done at the same time to finish your look. Some salons will offer a semi-permanent mascara such as MYScara that can last up to 2 weeks.
Throughout the treatment your eyes will remain closed.
The result is lifted and perfectly flared natural lashes.
Who are eye lash perms and eye lash lifts good for ?
Eye lash perms and eye lash lifts are perfect for any ages and excellent for:
Special occasions.
Holidays.
Active lifestyles.
Clients that do not want the maintenance of lash extensions.
They are especially great for clients who are sensitive to eye makeup, watery eyes and hay fever. They are low maintenance and negate the need for eye makeup whilst still providing a lift to the look of the eyes in the same that mascara does.
How long does an eye lash lift or eye lash perm last ?
This all depends on your natural lash cycle and how regularly your natural lashes shed. You can usually expect your lash lift to last on average 6 to 8 weeks.
Do I need a patch test for eye lash lift and eye lash perming ?
Absolutely yes – this is a technical process (a bit like having a hair perm or a hair colour) so you should always have a patch test to ensure you are not sensitive or allergic to the ingredients used in the treatment.
Tips for safe eyelash lifting
Your eyes are precious and you wouldn't just trust anyone with your eyes – would you ?
Here are a few tips for healthy eye lash lift treatments.
Cleanliness – Always go to a reputable salon. The salon should be clean and the staff should follow good salon cleanliness steps to ensure that they do not put you at risk of an infection. Most salons use disposable lash lift consumables and should always wear gloves when working around the eyes. If the salon doesn't look clean, walk away. It's just not worth getting an eye infection.
Patch test – Safety 1st – You should expect to have a patch test 24 to 48 hours prior to your treatment. This is really important because it safeguards you against the risk of a nasty allergic reaction. All salon insurances specify that all clients new to a treatment involving lash treatments and tinting should be patch tested before treatment. If you have had the treatment previously at the salon you should have a fresh test if the salon has changed the products that they use since your last treatment or it is greater than 3 to 4 months since your last lash treatment with them.
If you are not offered a patch test ask for one – it only takes a few minutes to administer and could mean the difference between looking fabulous or looking like you are making an impression of a puffer fish! At worst, anaphylactic shock can occur and you could end up at the local hospital. So don't risk it and insist on a patch test.
Quote of the day
When the world whispers "give up", hope whispers "try it one more time"
Arnold Schwarzenegger