Get that Gel-ous Feeling with Gel Polish
by Lisa Young – Salon Director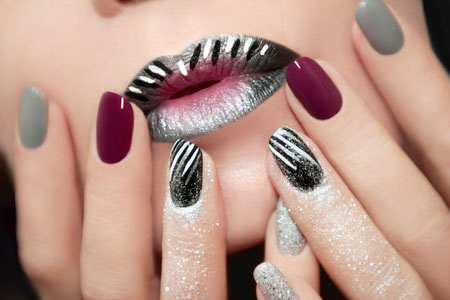 If you feel that life is too short to be waiting around, then that should extend to your nail polish too ! 
Over the last few years gel polishes have exploded on the nail scene. Todays' modern gels offer many advantages that include:
Faster application.
Faster removals.
Instantly dry.
High gloss finish.
Durable & chip resistant.
No maintenance.
Last 10 – 14 days.
So when you are short of time but still want to look glam and flawless, if you haven't yet discovered gel polish you don't know what you are missing !
At Studio 8 Beauty, our business site location means that many of our clients are time constrained. Gel Polish is the perfect lunch time solution for them.
We estimate that around 97% of our nail clients choose gel polish over traditional polish. This is because traditional polish tends to chip and wear without regular maintenance after just a few days. Whilst we still offer traditional polish, we do also offer a range of gel look polish.  This can be easily removed at home using normal polish remover. These gel look polishes also have a great longevity compared to traditional polish. Nothing really does beat a gel polish for extended wear, which is why pure gel polish is in high demand. In simple terms, it means that once they are applied you can get back on with your life smudge and chip free for a number of weeks.
So how are these little gel polish beauties applied ?
Gel polish is similar to nail enhancement. Today's gels however, are much thinner to apply so look natural and are much long lasting.
Firstly the hands are sanitised and the natural nails are inspected to ensure that there are healthy and fungal free.
The nail technician then prepares the nails in the usual way with filing & cuticle work.
The nails are then gently buffed to remove any residue oils and to lightly key up the surface to ensure a good adhesion.
A clear layer is applied and cured (set/fixed) using a specialised gel lamp (a special lamp that omits a light that quickly hardens and sets the base coat). Curing can take as little as 20 seconds for LED and up to 2 mins for UV lamps.
This is followed by a number of coloured layers that are cured between each layer with the lamp and finished with a clear top coat. This encapsulates the colour and ensures that it is fixed and smudge free leaving you to go about your day without the risk of ruining your nails.
LED (Light Emmiting Diode) vs UV (Ultra Violet)
There have been many recent scares over the health risks associated with the use of UV for doing gel polish. However, LED  has no health risks associated with it and cures much faster. It is therefore best to opt for LED every time in order to protect both your skin and nails and avoid the risk of cancer related illnesses.
Life after Gel Polish
There is no reason why you can't have gels continuously. Our staff and many of our clients wear gel polish all year round without damage to their nails.
How is gel polish removed ?
It is really important to remove gel polish correctly. Correct removal means that there is no damage to the nails.
Forget drills and electric files – these are not needed and are damaging to the nails if the nail tech removes too much polish.
Some nail techs will remove all the polish with an electric drill, which is a big "no no". So if your nail tech gets the drill out, run !!
Gel polish is really quite easy to remove using the following steps:
The nails are gently buffed to remove the surface shine and to allow the removal product to gently soak into the polish and work it's magic.
Next, cotton wool soaked in the removal product (often a gentle acetone based product) is applied to the nail.
The finger is then wrapped in foil and allowed to soak for 10 – 15 mins.
Heat can be used and even putting the hands into plastic bags allows that extra bit of warmth to speed up the process.
Once the gel has been soaked for the minimal time, the nail technician uses a wooden cuticle stick to gently rub off the polish. The polish will either peel on its own or powders and "voila !" the gels are removed and ready for a new application!! The nails may be gently buffed to remove any residue or just wiped over with the removal product on a lint free wipe if required.
And there you are – all ready to hydrate with some cuticle oil and protect with a clear polish, or even have a reapplication of polish.
So if you are tempted to try these totally beautiful, low maintenance nails why not give us a call and book your 1st gel polish experience at Studio 8 Beauty. Please contact the salon to book on 023 92 380 692.
Quote of the Day
" Your nails tell everything about you "
Tammy Taylor