Phyto Replenishing Oil for dewy skin that glows
by Lisa Young – Salon Director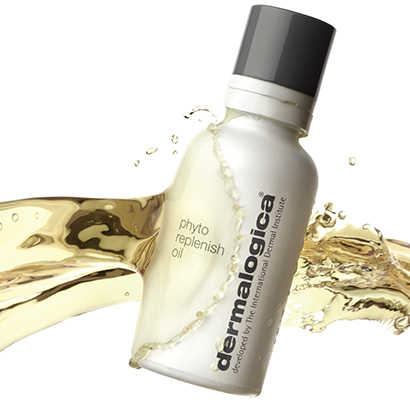 The latest skin products to hit the media by storm are the dewy skin products. The aim is to give your skin a natural dewy finish.
And who doesn't want skin that is healthy, dewy and glows ! Not us that's for sure !
So whether you're young or old, a makeup fan or a natural bare faced beauty devotee, the most sought after look is a luminous skin that oozes confidence.
Of course we can always fake it with makeup contouring and highlighting, but the most effective method for long lasting skin health is the latest must have beauty ingredient known as phyto replenishing skin oil.
Dermalogica are always ahead with skincare innovations and of course they couldn't disappoint us this time. So Dermalogica's own dewy skin defence has just arrived (Dermalogica Phyto Replenishing Oil), and wow it's taking the beauty industry by storm !
But before you scream "I can't put pore-clogging oils on my skin" hold that thought and read on. These new modern oils are an ultra light dewy-skin dream and not an oil slick nightmare!
Phyto Oils
First of all, a little about phyto oils and just in case you are wondering, Phyto means oils derived from plants.
These featherweight phyto oils provide three key benefits:
1) Shield
Every day our skin is under attack from:
Pollution.

UV rays.

Stress and poor diet.

Central heating and air conditioning.
This causes free radicals to frenzy, damaging proteins such as collagen and elastin deep down in the skin while inhibiting repair. The result is premature ageing and dark patches of pigmentation.
Which phyto oils shield the skin ?
Oils such as Sunflower, Rice Bran and Rosemary create a luminous antioxidant shield against free radical damage
2) Strengthen
Your skin needs fats in the same way that our body needs good fats. Lipids are an essential part of your skins make up. These lipids are critical in protecting the skin and preserving a dewy, youthful appearance. Without lipids our skin would look like a prune.
Which phyto oils strengthen the skins Barrier ?
Phytoactives from Camellia and Tamanu oils will help restore the skin's natural barrier.
3) Hydrate
Hydrated and smooth skin reflects light and gives off a luminous glow. Air conditioning and central heating as well as products that we use to clean our skin, can strip the natural skin barrier or lipids, which as a result causes water loss.
Which Phyto oils hydrate the skin ?
Orchid Flower and Chia Seed Oil smoothes fine lines that appear as a result of hydration as well as locking in critical moisture.
So where can you find your new dewy skin defender ?
Ta-dah … and so enters Dermalogica Phyto Replenish Oil, which is an exciting new feather weight phyto oil that provides a natural dewy look to the skin and luminosity.
It's so easy to use, here's how:
After cleansing and toning, press 4–6 drops into the skin and perform some light massage to oxygenate the skin, smooth and relax and help absorption.

Follow this with your recommended moisturiser.

Alternatively, mix a few drops in with your moisturiser (or even your foundation) for skin that has an instant glow and luminosity.
There's even a fabulous Dewy Skin Routine. Take a look at this short video:
Where can you get your hands on this super Dermalogica Phyto Replenishing oil ?
Visit Studio 8 Beauty Retail area to test this beautiful oil and find out what all the fuss is about at Central Square, 1000 Lakeside, Western Road, Portsmouth, PO6 3EN.
Quote of the Day
"I've learned that people will forget what you said, people will forget what you did, but people will never forget how you made them feel"
Maya Angelou