Did you know about the Benefits of Deep Tissue Massage ?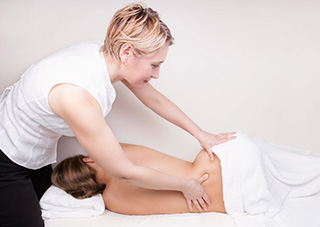 Do you suffer from muscular tension, soreness, dull aching muscles or even poor posture that can lead to more pain ? Maybe you're looking for increased muscle flexibility and movement ?
If the answer is Yes, then Deep Tissue Massage could be just the answer for you !
What is Deep Tissue Massage?
Deep Tissue Massage is very therapeutic and uses techniques designed to assist in correcting problems and imbalances in the soft tissues, which are caused by repetitive physical activity and trauma. It focuses on a specific problem with treatment sessions ranging between 30 – 40 minutes. It is very different to Swedish massage but also has many benefits as well.
How Does Deep Tissue Massage Work?
Chronic muscle tension or injury creates bands of painful, rigid tissue (adhesions) in the muscles, tendons and ligaments. These adhesions block circulation causing pain, limited movement, and inflammation.
The focus of deep tissue massage is on realigning the deeper layers of muscles and connective tissue. It is extremely beneficial for chronic aches and pains and contracted areas such as stiff neck and upper back, low back pain, leg muscle tightness, and sore shoulders.
A deep tissue massage therapist physically breaks down these adhesions by applying direct deep pressure to the muscles to relieve pain and restore muscle movement. It's important for muscles to be relaxed in order for the therapist to reach the deeper layers of muscle as well as good communication between the therapist and the client in order to establish when the pressure point is reached and alleviated.
Who is it good for?
Deep tissue massage is great for almost anyone (subject to contraindications) such as:
Those with physically demanding jobs.

Those with desk based office Jobs.

Those who have Long periods driving.

Those with general stress and tension.

Those looking for an advanced massage to relieve muscles soreness, stiff shoulders and neck etc…
The Benefits of Deep Tissue Massage
Deep tissue massage usually focuses on a specific problem and can be extremely beneficial for the treatment of the following conditions and many more:
Chronic muscle pain.

Injury rehabilitation (e.g. whiplash, falls, sports injury).

To provide muscle relaxation.

Relief of muscle soreness and tension.

To provide mental relaxation.

Increased flexibility and improved range of movements.

Improved posture/posture problems.

Relief of pain and tension caused by sitting at a desk or driving for long periods.

Injury prevention & management.

Chronic pain.

Lower back pain.

Sciatica.

Limited mobility.

Repetitive stress injury.

Post Workout to relieve muscle tension.

Osteoarthritis pain.

Fibromyalgia.

Muscle tension or spasm.
What does it feel like and what can I expect during a Deep Tissue Massage treatment ?
Unlike a Swedish massage, your therapist will warm your muscles up quickly so they can get to work on your muscles and at certain points during the massage, most people find there is usually some discomfort and pain, but this varies from person to person according to their personal pain threshold. You will be asked to breathe deeply during the treatment especially when tense areas are being worked on.
Massage therapists use a variety of movements to apply pressure to the pressure points and may make use of fingertips, knuckles, hands, elbows, and forearms during the deep tissue massage.
The treatment is interactive between the therapist and client and throughout the treatment the massage therapist will ask you if there is any discomfort or pain you are experiencing outside of your comfort range.
Post Treatment
You can normally feel some discomfort after a deep tissue massage but it should subside within a few days. Your massage therapist will provide directions on post care.
Contraindications to Deep Tissue Massage
Your therapist will carry out a full consultation to discuss your medical history to understand if there is anything that may prevent you from having a massage.
Here are a few examples that may limit or prevent treatment:
Inflamed skin or infectious skin disease, rash, or open wounds.

Inflamed joints.

History of blood clots, bruises and tumours.

Immediately after surgery.

Immediately after chemotherapy or radiation, unless recommended by your doctor.

Osteoporosis (May need a GP note).

Heart problems (May need a GP note).

Pregnancy (May need a GP or midwife note).

Diabetes (May need a GP note).
Our therapists have an excellent knowledge of anatomy, are expertly trained in advanced Deep Tissue Massage and are available to discuss your suitability for treatment.
If you would like to know more about Deep Tissue Massage or perhaps try a treatment for yourself, please call or email Studio 8 Beauty to discuss your requirements on 023 92 380 692 salon@studio8beauty.co.uk.