Introducing Airbase Airbrush Foundation for a flawless Makeup base.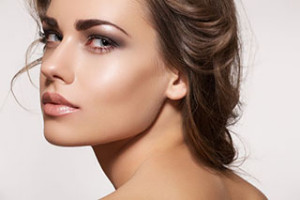 Airbrushing is the latest trend in make-up application because it creates a perfect and flawless make-up base that lasts all day and gives an instant wow factor to your make-up finish. Previously used in the TV industry, airbrushing has risen in popularity and is now highly sought after especially for bridal and prom make-up.
So what is airbrushing ?
Airbrushing uses an airbrush, which is a small air-operated tool that sprays using a process known as atomization. The airbrush deposits microscopic droplets of foundation on the skin that can be built up to achieve the desired effect. The great thing about airbrushing is that it looks so perfect, yet it is so light. So whether light or full coverage is required, airbrushing can be adapted to suit the individual and better still, it is quick to apply (taking 5-10 minutes) instantly concealing and correcting as it covers.
Airbrushing can also be used to contour and highlight the face as well as apply blusher and bronzer. Amazingly, it can even be used to cover imperfections such as scars, birth marks and tattoos – they just disappear with airbrushing and without the heaviness of traditional camouflage make up.
This is what makes airbrushing so different to traditional make up application. A good airbrushing technique can create a serious 'WOW' complexion for your big day, on-screen appearance, or photo shoot, which is why more and more professional make-up artists are using airbrush techniques to create flawless make up.
There are a variety of brands that are available:
Silicone based – Airbase & Mistair.

Water based – Temptu & Iwata.
Benefits of silicone based Airbase airbrush foundation
So, why choose a silicone based foundation such as the Airbase airbrush foundation over traditional make-up bases ? Well, silicone has numerous properties that make it perfect for use in foundations and primers.
The secret to its flawless look is that silicone based foundation is forgiving. Unlike water based foundations, silicone can be 'moved' and manipulated for a short time after application. This means that any errors are easy to correct after application, giving the make-up artist the opportunity to perfect the base. Silicone based airbrush make-up can be built up layer by layer, creating an effect that can be developed to suit the wearers preference and required coverage. Because it is so fine a mist, the coverage appears light regardless of what it's covering such as birth marks, scars or tattoos.
Studio 8 uses and recommends Airbase airbrush foundation. We just love the combination of Silicone and vitamins because of the way that it nourishes the skin as well as creating a perfect dewy finish. The great thing about Airbase airbrush foundation is that it is perfectly dry almost immediately, so it doesn't rub off onto your clothing … a must for weddings as the last thing you want is make up on an ivory dress !
Airbase airbrush foundation and makeup has a strong celebrity following. Rihanna is a great fan of the product as well as professional Make-Up Artists like Julia Carta (X Factor 2012 and 2013), so you know that the product we are using for your special occasion make up is the one that's trusted by the professionals.
There are 3 key ingredients to Airbase Make-Up:
Silicone – a heat-resistant, non-stick and incredibly pliable compound making it perfect for foundation and primers.

Vitamin A – for improving skin elasticity and reducing fine lines.

Vitamin E – an anti-oxidant that moisturises and repairs helping to deactivate the free radicals that age the skin.
The results – An invisible looking perfect finish that provides a beautiful natural looking luminosity to your skin with all the benefits of a moisturiser.
If you are interested in seeing what Airbase airbrush foundation and makeup can do for your special occasion make up or to find out more please contact the Salon on 02392 380692 or email salon@studio8beauty.co.uk.