Haunting Halloween Makeup
by Emily Wright – Studio 8 Team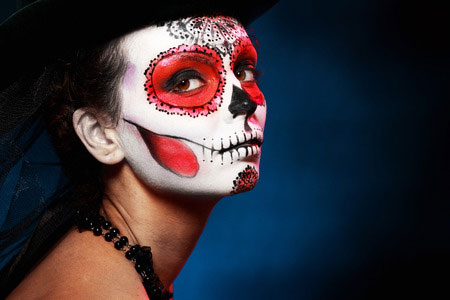 If you are planning a spectacular spooky makeup look for this October 31st then keep your wits about you, as it may not only be for a one-night look.
Read on and see if it really is as harmless to your skin as you initially thought …
In order to provide such an effective and terrifying look, costume makeup is much heavier and more highly pigmented. When using costume makeup, remember that if it is not applied and removed in the same way as everyday makeup products.
Because costume makeup is much heavier than everyday cosmetic makeup, it can sometimes irritate the skin. This is because in order for it to provide a long-lasting finish, it is often packed full of pore-clogging ingredients. As a result, your usual makeup removal routine may not quite cut it this Halloween !
So what can you do to protect your skin and get it back to it's usual glow after Halloween ?
Protective Prep
To achieve the smoothest possible base for your makeup application, it is important to follow the right steps to build up a barrier to protect your delicate skin.
Begin as you would for any day, with your usual skin cleansing routine.
Here is a typical Dermalogica Cleansing regime as a guide:
Cleanse – Double cleanse with Dermalogica's oil based Precleanse and a Dermalogica cleanser which has been prescribed for your specific skin. If you are not sure which cleanser best suits your skin type and conditions then pop into Studio 8 where we can FaceMap to identify which products are most suitable for you.
Hydrate & Protect – Once you have cleansed your skin, tone and moisturise in order to hydrate and protect.
Primer – If you don't already use a primer on a daily basis, then Halloween could be the time to try one out ! Primers are used prior to makeup application, or on their own, to provide a perfect base, eliminate roughness and even out skin tone. Dermalogica's Hydrablur works well to achieve this, with a blurring and mattifying effect on the skin. Simply smooth a small amount all over the face before applying your terrifying Halloween makeup !
Time for a Treat
Once the night's horrors are over and the tricks have come to an end; it's time to give your skin the treat it deserves after a night of hard work.
The pore-clogging ingredients prevent your skin from 'breathing' and carrying out all of its usual processes so it's important that you totally remove all makeup at the first opportunity.
Cleanse – Similar to your skin preparation, removal should begin with a Dermalogica Double Cleanse. This time ensure that you thoroughly massage Precleanse Oil into each and every crevice of your face, especially around the nose and on the chin. This will help reduce the risk of blackheads and spots appearing overnight.
Eye Makeup remover – To remove heavy eye-makeup why not try Soothing Eye Makeup Remover to get rid of every last particle of the night's horror.
Mask – If you feel as though your skin is struggling and dull, then a mask will revitalise and invigorate. Charcoal Rescue Masque is perfect to improve cell turnover and return your skin to its natural glowing state.
Hydrate – A spritz of toner, such as Multi-Active Toner, will re-hydrate your skin
Moisturise – Apply your prescribed moisturiser to smooth and soothe.
Continue Good Skin Health
If, even after this routine, your skin is still feeling clogged and tired, then why not book into Studio 8 for a facial treatment.
A Dermalogica Skin Health Facial addresses your skin's needs and is a relaxing and pampering treatment. It will leave your skin feeling perfectly soft and supple.
if you're in need of a quick fix then a Dermalogica MicroZone treatment could be just what your skin needs. Our skilled therapists will address your vital skin concern and use the products and techniques best suited to reverse the issue.
So for yet another year your skin is now safe from the frights of Halloween.
For more information on any Dermalogica products mentioned, feel free to pop into the salon to browse our product range or book yourself an appointment online, on our app or give us a call on 023 9238 0692.
Quote of the Day
" When black cats prowl and pumpkins gleam, may luck be yours on Halloween "
ANON