Dermalogica Prescriptive & Advanced Facials
The moment your skin changed… When Dermalogica meets skin, skin health is redefined. Our promise to you is that your skin will never have felt as clean, or as healthy, as after one of our professional services; nor will you leave our Skin Bar® without truly understanding your skin, and its needs. Our therapists are among the best trained in the industry, and each has postgraduate certification from The International Dermal Institute.
What does that mean for your skin?
Quite simply: Real Treatments. Real Answers. Real Products. Real Results!
The Dermalogica Prescriptive Skin Health Facial (60-75mins)
Say goodbye to cookie-cutter treatments! The Dermalogica Skin Treatment is 100% customised to your skin needs based on consultation and a thorough zone-by-zone Face Mapping® skin analysis, making it one treatment… that's different every time!
Totally designed to meet to your needs each treatment includes a professional double cleanse with steam, toner, exfoliation, extractions (as needed), massage, masque, toner and skin protection.
To complete your treatment experience you can customise your skin treatment with your choice of Touch Therapy.
While no one knows your skin better than your Dermalogica Skin Therapist, only you know how you feel.
£50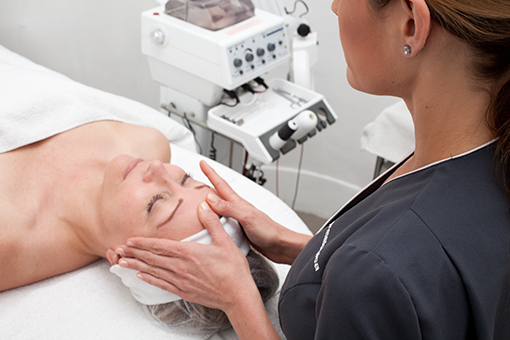 Dermalogica Advanced Prescriptive Facial (75 mins)
An advanced Dermalogica Prescriptive Facial using electrical modalities (if suitable) and advanced complex products form the AgeSmart, Medibac and Ultracalming Professional Range pushing your facial to an advanced level and ultimate results.
£60
Additional Touch therapy or extra electrical is also available (15mins – £12)
Your therapist will discuss options during your consultation, some examples are Stress Relief Head Massage, Hand and Arm Massage, Neck and Shoulder Massage or Anti-aging Acupressure Massage.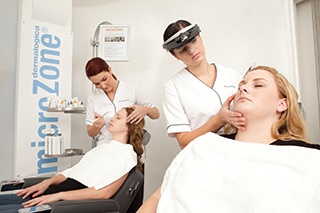 MicroZone® Express Facial (30mins) – £25
Want a professional skin treatment but short on time? Get on-the-spot skin solutions with MicroZone® treatments. We'll address your top skin concern with our exclusive Dermalogica MicroZone® treatments – the quick fix for troubled skin. After a consultation and Face Mapping® skin analysis we will determine your skins most pertinent skin needs and focus on key stages of the treatment to get you maximum results in a minimum of time.
Address common skin concerns in 20mins such as Flash Exfoliation, Black Head Relief, Eye Rescue, Age Management or Teen "Clear Smart" Facial.
Skin bar® (30 mins)
Test-drive your prescribed regimen under the guidance of a professional Skin Therapist at the Studio 8 Dermalogica Skin Bar®, you can learn about your skin with Face Mapping®, and then learn how to use the products, hands-on.
We carry the full product range so you can continue the regime at home and see fantastic results.
£10 – redeemable against any products purchased on the day.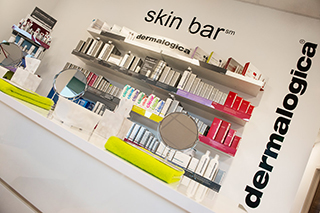 Advanced Dermalogica Skincare Treatments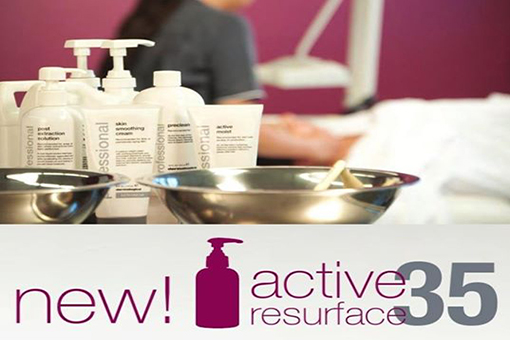 Active Resurface 35 – £50
An advanced 45-minute resurfacing treatment that applies a cocktail of advanced cosmeceutical ingredients.
The treatment is completely customisable to individual skin requirements by utilising Dermalogica's unique Face Mapping® skin analysis technique along with a thorough professional consultation and provides intense resurfacing to stimulate cell renewal and cell turnover whilst helping to treat pigmentation, dehydration and congestion.
Single treatment £50
Course of 6 £300 including a free 45 minute hydration facial.
BioSurface™ Peel (60mins) – £75
BioSurface™ Peel is a powerful skin resurfacing system from the skin health experts at Dermalogica and The International Dermal Institute. It helps reduce breakouts, pigmentation and signs of premature aging to reveal smoother, brighter and softer skin. BioSurface™ Peel is designed to work with the skin's chemistry, not against it. When performed by a certified skin care professional, it safely removes dull outer layers of skin and helps the skin underneath regenerate for better health and radiance with no scarring or downtime.
Suitable for the following skin concerns:
Uneven skin texture

Signs of photo damage

Fine lines and wrinkles

Breakouts

Skin congestion

Some forms of pigmentation

Unbalanced skin tone
Single treatment – Includes a post peel skincare kit £75
Visible results after 1 treatment however a treatment plan course is recommended for ultimate results.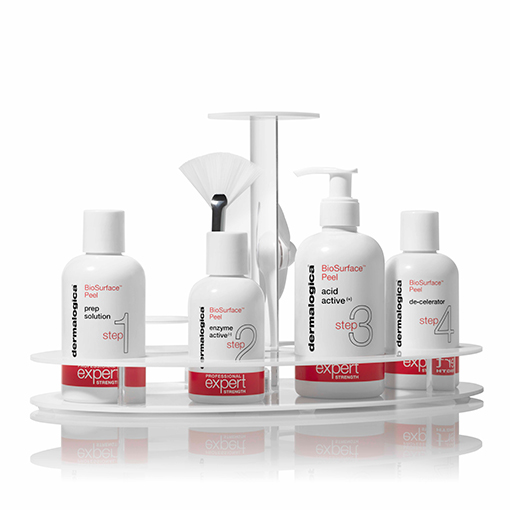 Dermalogica IonActive Power Treatment 45 mins £75
An action-packed treatment, from the Dermalogica Professional Expert Treatment Menu, with rapid, visible results. The IonActive Power Treatment combines thermal activity and is super charged with advanced treatment room technology to optimise product penetration
The results? … cutting edge skin treatment ingredients with dramatically, improved skin results in a reduced treatment time.
This treatment combines highly active microencapsulated ingredients, advanced & traditional electrical equipment such as galvanic iontophoresis, micro current, ultrasound and ultrasonic as well as Japanese massage techniques to result in biological changes to the skin and therefore providing optimal results.
Advanced actives available in the IonActive System:
Retinol to firm and reduce visible signs of skin aging.

Niacinamide – controls and prevent adult acne breakouts.

Hyaluronic Acid – relieves dry & dehydrated and/or sensitised skin.

Oligopeptide – brightens hyperpigmentation for a more balanced skin tone.
Please note that this treatment can be adapted for Clients who are contraindicated ( pregnancy, epilepsy, heart pace maker etc..) to electrical treatments using other professional non-electricals.
Electrical Facials
Electrical modalities are available at no extra cost in all our facials – Our Skincare Therapists offer a range of advanced electrical facials combined with Dermalogica Advanced Skincare Products to ensure you receive the best results from your facial. Technologies available are Ultrasonic, High Frequency, microcurrent, galvanic disencrustation and iontophoresis & Diamond Microdermabrasion.
Ultrasonic Facial (45 mins)                                  £45
High Frequency Facial (45 mins)                         £45
Diamond Microdermabrasion (45 mins)              £45