Sunscreen for a Safe, Natural, Summer Glow
by Thea Leonard​
Senior Therapist at Studio 8 Beauty
Why do I need a Sunscreen ?
It's officially a heatwave so let's talk about how to get a safe, natural summer glow.
If you want healthy, glowing, youthful skin, you absolutely must use sunscreen, and I don't just mean when it is sunny. Always get that sunscreen on. We cannot say it enough, Sunscreen ! Sunscreen ! Sunscreen !
No matter what the weather is doing or even if you are not going outside sunning yourself, it is an absolute must.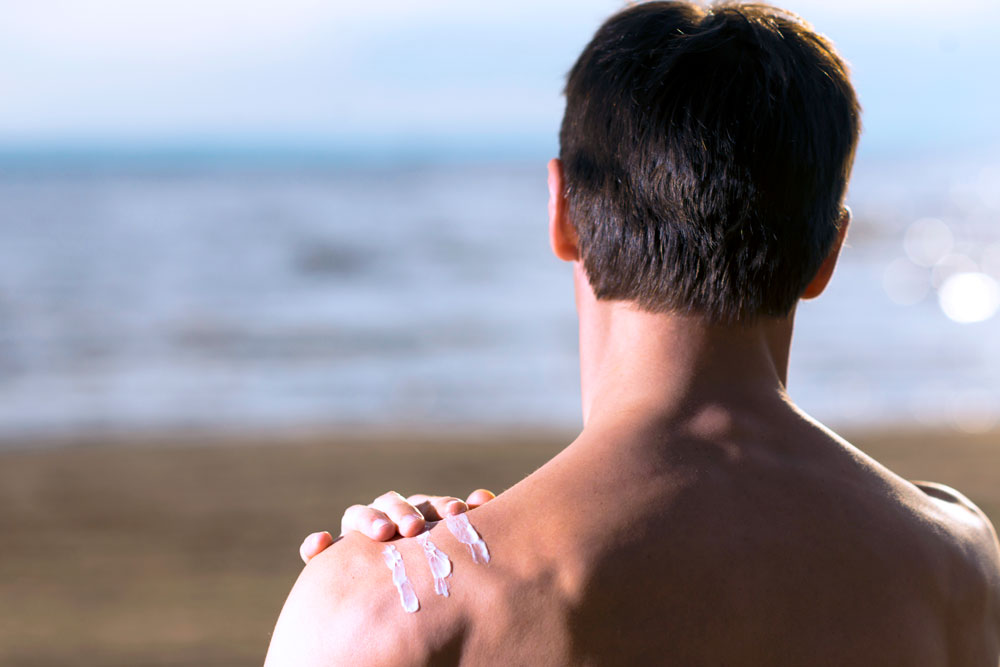 Did you know that UVA rays can penetrate through glass and are a skin ageing aggressor?
That means it contributes to skin ageing, including pigmentation, lines and wrinkles. Shocker eh!!
So please don't give sunscreen a miss by thinking, "should or shouldn't I." UVA & UVB rays are present in sunlight every day; whether it's wind, rain or shine, they will still radiate from the sun and cause harm to your skin, including when you sit behind glass! UVA is a baddie, and you must protect yourself against its harmful effects.
What is UVA & UVB?
Well after many years of research, it is now widely understood that prolonged exposure to ultraviolet (UV) radiation is damaging to the skin & can cause skin cancer.
The two types of UV light have now been proven to contribute to damaging the skin & increasing the risk of skin ageing & skin cancer:
UVA or Ultraviolet A has a longer wavelength and is associated with skin ageing.
UVB Ultraviolet B has a shorter wavelength and is associated with skin burning.
Unfortunately, unprotected exposure to UVA and UVB damages skin cells DNA, producing genetic defects that can lead to skin cancer and premature ageing.
Want to know more about sun & skin cancer ? Check it out here: https://www.skincancer.org/risk-factors/uv-radiation/
Urgh, we hear you say I'm not too fond of sunscreen !
Did you know that sunscreens have developed so much over the years?
In the last couple of decades, it was typical that most people, us included, did not apply sunscreen often or even at all. Yes, even therapists took the risk. It was chalky, thick, and (so we thought) bad news for getting a tan. Yet we all wanted a tan! Carrot oil, coconut oil, olive oil, and lemon were all-time favourites.
Can you believe that we used to baste & cook ourselves in the sun?
Sadly, the sun's rays are so much stronger than they were even 10 years ago, let alone 5 years, so we must take care and listen to the advice to protect our skin.
Faces are more at risk because they are so much nearer to the sun, we guess!! There are so many beautiful sunscreens to choose from, and you can even have them in your moisturiser. What we do know is that they are no longer chalky and no longer thick. Choose a matte finish if you suffer from oiliness or a dewy glow if you suffer from dryness. Or even choose tinted if you want a little bit of colour every day. As therapists, we now practice what we preach and wear sunscreen every day, even without leaving the house. Why? Remember, it penetrates through glass!
Our all-time favourite is Studio 8 Protect SPF 50; it has a light and hydrating effect and is fantastic for all skin types. I love it. It's super reasonable in price too, ONLY £ 36.00 for the 50ml.
So, I still hear you say, "I'm not using sunscreen; I won't get a tan!"
That is not entirely true! You can still get a tan with sunscreen. Sunscreen allows you to stay out longer in the sun without burning. So, if you burn after 10 mins without SPF on factor 50 will enable you to stay out without burning for 50 times 10 mins. That is 8 hours and 20mins!
Fake it !
So, what if the sun is too hot and it's not your idea of fun because you can think of nothing more boring than laying in the sun (even with a book)? Well, you can also fake it! Most of our staff dabble with a fake tan throughout the year and on special occasions because it is much safer for your skin.
We love the Sienna X tanning range and stock a good selection of products in the salon. It's a good price point ranging from £12 – £23.95. We've tried many brands in the past, and this one wins our vote every time. One all-time favourite from Sienna X is the tanning drops. If you love your face looking bronzed and make-up-free, pop a few drops into your moisturiser twice a week for that sun kissed glow. The result is fresh, natural, bronzed skin.
For the body, there is a choice of medium or ultra-dark. The products come in various mediums, including lotions, foams and mists that you pop on before bed and wake up sun kissed or bronzed.
If you are looking for a lighter tan or if it's your 1st-time self-tanning, then choose the Sienna X gradual tan and build up your desired colour by applying it every couple of days. Remember to wear gloves. No one wants orange palms!
And there you have it – a guide to being sun safe and getting a safe tan sun, wind, rain or shine.
Top Tip
Need a little help to get your glow on? We offer a professional tanning treatment and will apply your tan for you? If you don't fancy exfoliating at home, we can apply that for you, making it an indulgent, relaxing body treatment lasting 8 – 10 days. You can even pick up hints and tips during your appointment to try them for yourself at home. We use a manual tan, so there is no standing in front of a stranger with nothing but a pair of skimpy disposable knickers. We cover you with a modesty towel and uncover & tan each area one area at a time, and before you know it, it's done.
Fancy booking a manual tan with one of our lovely therapists ?
Book online at https://studio8beauty.zenoti.com/webstoreNew/services or call the salon on 023 92 380 691
Products are available in the salon at Studio 8 Beauty 1000 Lakeside Cosham Portsmouth PO6 3EN.