Microdermabrasion Facials​
by Jaime Godfrey​
Senior Therapist at Studio 8 Beauty
What is Microdermabrasion ?
Microdermabrasion uses mild abrasion to remove dead skin cells.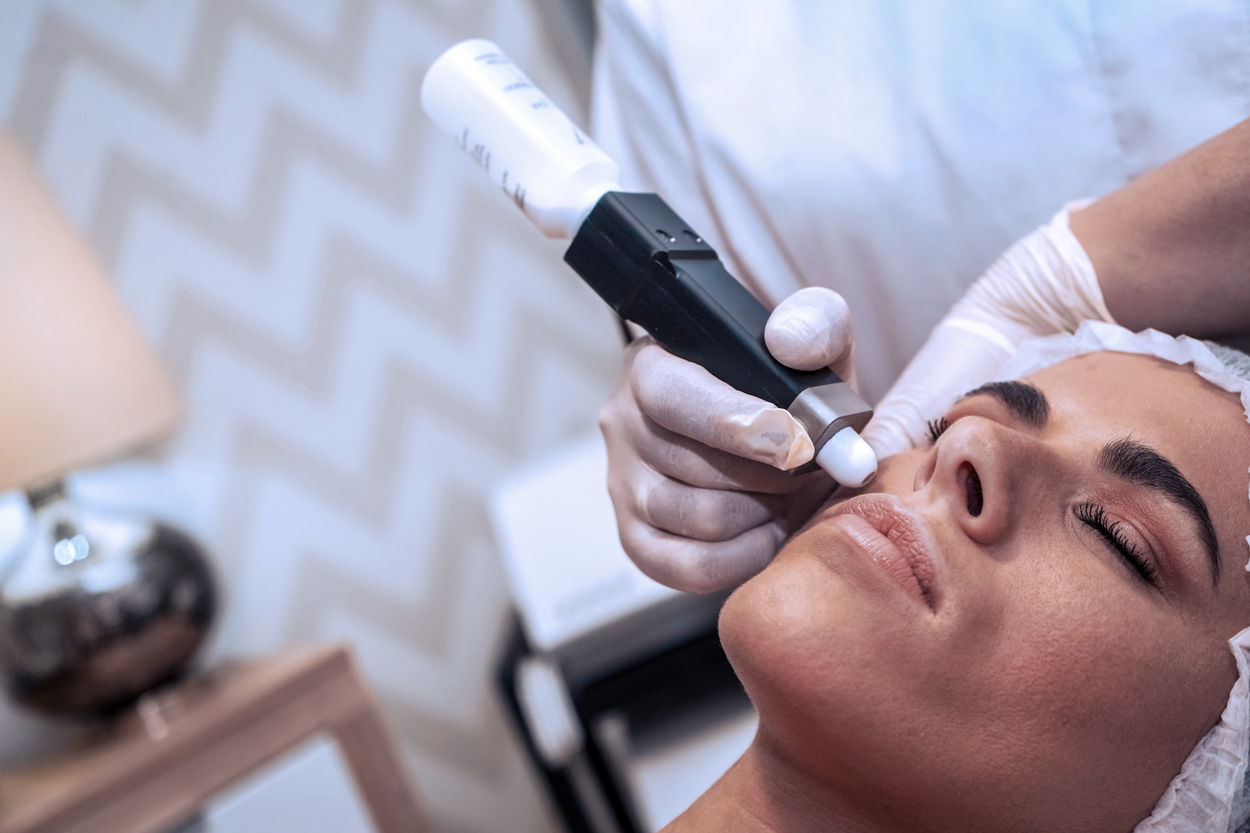 What are the benefits ?
It helps give a smoother, more even-toned skin.
Skin pores will appear more refined.
Suitable for all ages.
There is minimal downtime and any redness of the skin subsides within a few hours.
Treatment improves the absorption of skincare products.
Can be taken as a one-off treatment or as part of a course.
Great in combination with other treatments such laser hair removal, rejuvenation treatments and skin peels.
Treatment stimulates cell renewal and the production of collagen and elastin. This improves skin texture and overall skin health.
Helps smooth fine lines and wrinkles.
Treatment will help to unclog pores as well as treat milia and blackheads.
It is a very hypoallergenic treatment due to the crystals being made from aluminium oxide. The grits abrasive tips use substances that clients are rarely allergic to, however, diamond microdermabrasion is not suitable for clients with metal allergies as it uses a metal tip.
Why pick microdermabrasion ?
It is a minimally invasive treatment, which improves the skin and its appearance.
There are several types, the most common of which are:
Crystal Microdermabrasion
This method uses fine crystals, which are blasted at the skin with a minimal but effective force that helps to slough skin away.
Diamond tip Microdermabrasion
Traditionally, diamond tip microdermabrasion uses a metal abrading tip graded as fine, medium and coarse grit. This method uses a rotating tip with an abrasive grit pad to slough skin away.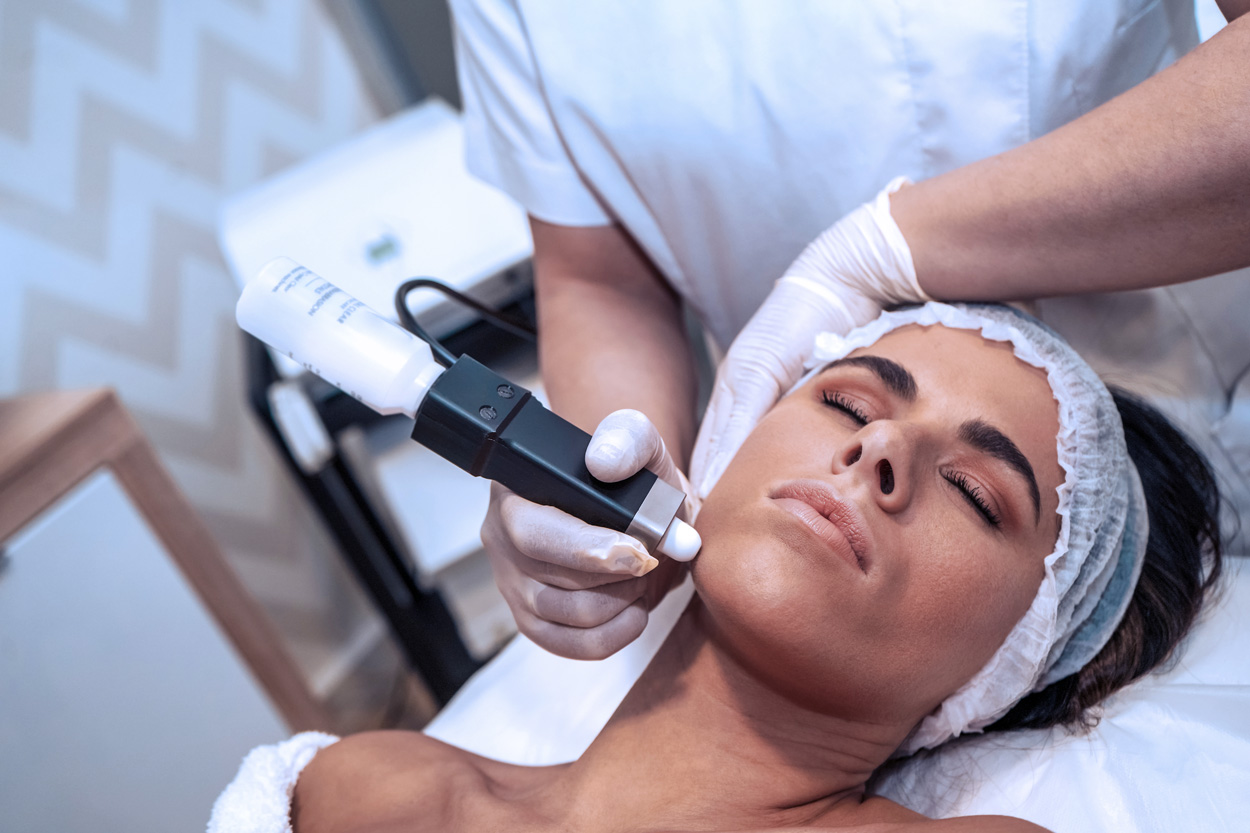 CACI Microdermabrasion is a modern diamond tip alternative. It uses a disposable abrader tip with a choice of three abrasion levels in combination with red & blue LED light therapy. This makes it both hygienic & hypoallergenic for all skin types, including sensitive skin.
Following the Microdermabrasion application, a CACI Hydratone mask (Rosewater, vitamin E & hyaluronic acid) completes the treatment, giving a truly relaxing experience.
Wet / Dry Microdermabrasion
The wet / dry method uses a skin product or water in combination with microdermabrasion.
One example of this is the Geneo 3 in 1 Oxygen Microdermabrasion Facial. This can also be combined with Radiofrequency to create an advanced skin tightening and contouring treatment.
The Geneo+ system uses a combination of product infusion & oxygenation. It works in combination with a targeted oxypod that induces an oxygen infusion on the skin and aids product penetration. The consistency of the unique oxypod removes dead skin cells to brighten and replenish the skin. The result is a comfortable and effective treatment.
Wet / dry microdermabrasion can also be used with pure water. This is often called a Hydro facial using modern equipment that combines vacuum suction, oxygen and product infusion.
All types of microdermabrasion have similar results with the goal to plump and refresh the skin whilst promoting skin cell turnover.
Microdermabrasion is a great starting point when first trying a facial, as it's painless and suitable for pretty much any skin type unless you have an active inflamed or infected skin condition.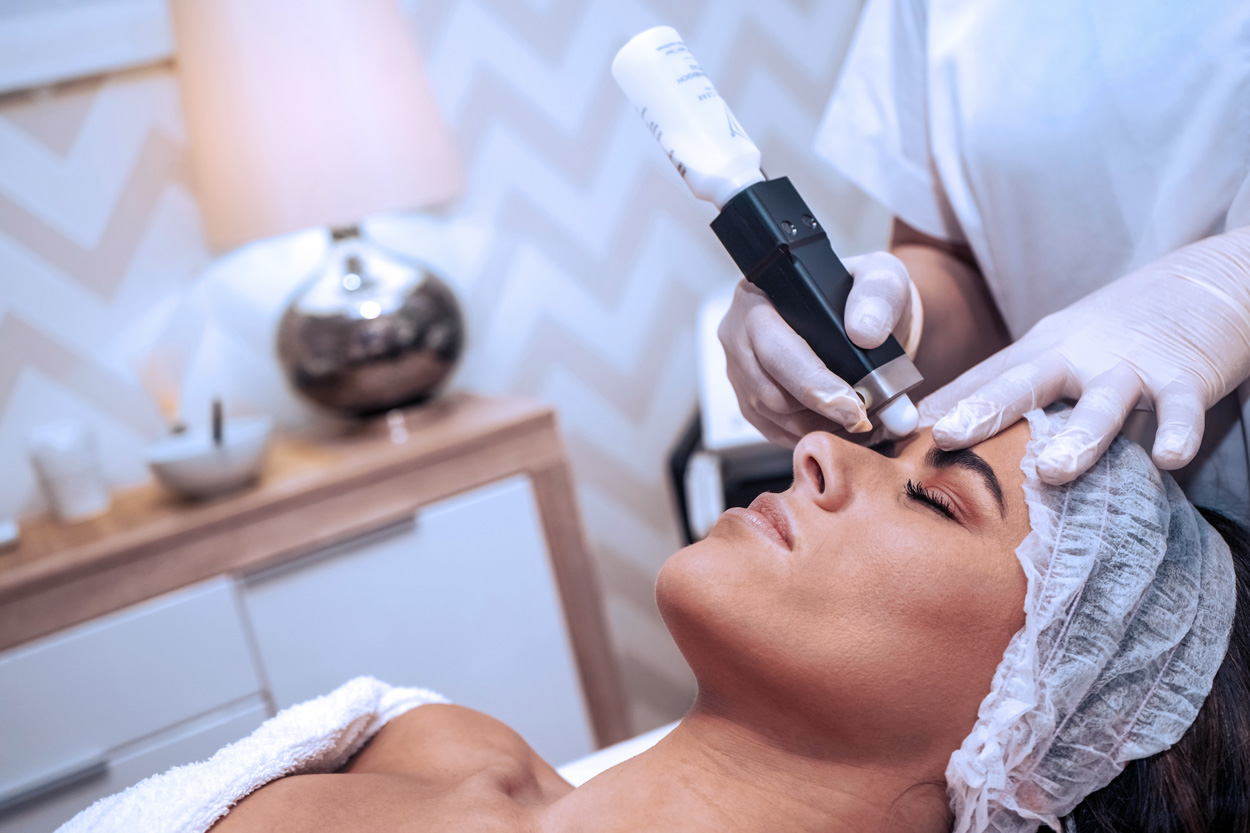 Special Occasions
Microdermabrasion is also a great choice as a one-off for a special occasion if you would like a really lovely glow without having too much of an invasive treatment before a big day. Microdermabrasion is often combined with enzyme peels that gently yet effectively exfoliate and brighten the skin to create a lovely glow to the skin.
Your skin will be left smooth and glowing with benefits from a single treatment lasting up to a month. Further benefits can be achieved from a course of 4 – 6 treatments to give progressive and transformation results such as reducing pigmentation and scarring.
Monthly treatments are recommended, but microdermabrasion can be done every two weeks if your skin type will allow it.
Professional skincare is needed in conjunction with this treatment to help you get the best results and support your skin after a professional treatment. To be suitable for this treatment, you will also need to avoid UV exposure, including sunbed use.
Overall microdermabrasion is a beautiful treatment with many benefits and is great if you're looking for that instant glow and smooth feel. It is also a brilliant gifting option as it's such a versatile treatment for all ages and skin concerns, so you can be sure they will love it!
Microdermabrasion is available now on our online booking system, telephone booking, or salon bookings.
To book your treatment, CLICK HERE for our online booking system, or EMAIL us at salon@studio8beauty.co.uk or CALL the salon on 02392 380 692