Studio 8 announces its new Luxury Pedi Spa Area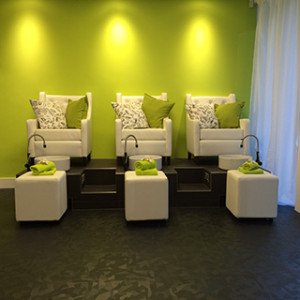 There is a great excitement in the salon this week as we get ready to officially open our new Pedi Spa area. The Salon has recently expanded and after lots of research we decided to bring a touch of the US and London look to our Portsmouth salon and have designed a Pedi Spa area to reflect this. With bespoke pedicure seating, fully fitted ceramic bowls and cosy sumptuous cushions, the décor reflects the image and branding of Studio 8 that offers a clean, relaxing environment for both Ladies Pedicure and Gents Executive Foot care treatments.
The unit was previously occupied by Pressing Needs Dry Cleaning, who have moved to a mobile drop and collect service on the Lakeside 1000 site. Their move presented a great opportunity for Studio 8 to build our pedi spa and despite a few structural obstacles along the way, we are really pleased with the final results. The team are extremely excited about the Salon extension and are looking forward to using the Pedi Spa area as it creates a comfortable and unique experience for our Clients.
Once thought of as a luxury, pedicures are again increasing in popularity and seen as a vital therapy for combating the stresses of a modern life. They are a great way to spend time with a friend or relative as a treat or even as an opportunity to just catch up. With the addition of 3 pedicure chairs, we are now able to offer a wonderful spa like experience for our clients. You'll find our luxury pedi spa area is absolutely fabulous for your hen parties and pamper parties when you book with Studio 8.
In helping to create our new pedi spa area, we would like to extend our thanks to:
IRC Interiors, for the amazing transformation due to their commitment and attention to detail.

Natural Choice Floors, for creating an amazing floor to complement the existing floor.

Signs express Portsmouth, for our window graphics.
Jessica Zen Spa at Studio 8 Beauty
Studio 8 uses Zen Spa a range of professional pedicure products for those smooth and pampered feet. A relaxing, revitalising and rejuvenating approach to pedicure providing an inspiration to your mind, body and soul. This state of the art pedicure system cleanses and exfoliates dry, dull skin cells and rejuvenates skin to a healthier softer condition naturally. without preservatives or artificial ingredients. A Zen Spa Pedicure smells absolutely delicious and will truly awaken and renew your senses.
Our products are part of the luxury range created by Jessica Nails and are used in the very best quality Salons and Spas throughout the world including Jessica's own salon in Beverly Hills. The range is designed to offer a holistic approach to pedicures. Choose between energising ginger, calming green tea & revitalising citrus for this luxury foot & leg treatment. The Zen Spa treatment includes hard skin removal, a deep conditioning foot & leg massage leaving them softer & smoother, cuticles addressed and completed with nails being beautifully shaped & perfectly polished with GEL or custom Polish.
For the ultimate in treatments there is an option to upgrade to a Deluxe Zen Spa Pedicure with the luxurious added benefits of Thermal Heated Booties for deeper penetration of oils & creams. Excellent for increasing circulation & relieving stiff, painful joints or pure indulgence!
And for the gents …
Executive Footcare for men – A relaxing and grooming foot and leg treatment. Hard skin is removed, feet and legs are massaged with deep conditioning creams leaving them softer and smoother. Cuticles will be made neat and tidy and toenails will be perfectly shaped.
Please check our promotions page for some fantastic offers on pedicures and then come and experience our fabulous pedi spa for yourselves. Please contact the Salon on 02392 380692 or email salon@studio8beauty.co.uk for more information on the treatments you like to book.