Hot Lava Shells Massage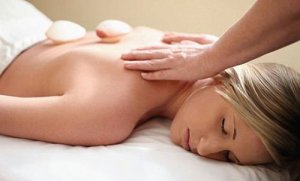 Have you heard about the latest hot treatment !! Pardon the pun of course.
It's the treatment they're all talking about and Lava Shells are the hottest celebrity must have treatment.
Lava Shells are the World's first self-heating massage tool. A unique innovation in warming spa therapies that relaxes whilst easing muscle and joint aches and pains.
Offering the benefits of a hot stone massage but with an added bonus of being eco-friendly, the Lava Shells Massage therapy uses 100% genuine recycled Tiger Clam Shells which heat up internally for up to an hour with a patented combination of natural minerals and water.
There are many benefits to using heat in massage:
Creates a massage that is ten times more relaxing in a shorter treatment time

Enables a deeper tissue massage without necessarily needing a firm pressure massage

Aids lymphatic drainage and flushes toxins to create a detoxifying effect
Lava Shells Massage has been voted the 'most wanted' therapy by salons and spas in a Professional Beauty Survey and Vogue describes Lava Shells as 'The new hot stones'.
Studio 8 Beauty therapists are Lava Shell Relax Massage trained and offer a choice of 2 specific treatments:
Hot Lava Shells Relax Back Massage (30 mins)
The warmth of the Hot Lava Shells allows deep relaxation in this bespoke back massage treatment. The shells glide over the back to warm and relax muscles. Specific massage techniques work on pressure points and tension areas to ease stress and stiffness, delivering an intense and powerful massage treatment. A great treatment for general relaxation, back aches and pains, headaches, or just as a pampering treat.
Hot Lava Shells Relax Body Massage (60 or 90 mins)
The indulgent and truly pampering Lava Shells Relax Body Massage offers an idyllic treatment combining the warmth of the shells with deeply relaxing massage techniques, creating a sense of balance to the entire body and mind. Hot Lava Shells are massaged and worked over the palms, arms, feet and legs in slow deep moves to warm and de-stress. This is followed by a wonderfully tranquil massage on the back, neck and shoulder area to ease away all tension, knots and stress. A 90 minute treatment provides an unforgettable sublime experience. A truly relaxing treatment to alleviate stress, aches and pains, over-active minds, headaches, poor circulation and is a full body indulgence.
So if you are looking for an amazing relaxing treatment,  give us a call now on 023 9238 0692 and book your appointment for the latest & hottest treatment.