Spooktacular Halloween Skincare Survival Guide
By Lisa Young – Salon Director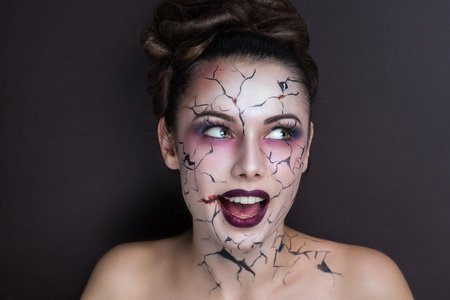 Halloween is so much fun and it's a great excuse to dress up and indulge in some tricks and treats.
So you slap on the make up and go totally overboard only to regret it a few days later when you get a break out of spots.
Yes, we have all been there … we all know and love that lovely green Halloween make up that leaves you a tinge of green for a few days afterwards!
So unless you are willing to bust the budget on the good stuff, it's often cheap and nasty, highly coloured, which will play havoc with your skin.
But even the good stuff is still heavy with oils and will play havoc with your skin if you don't prepare well.
So follow our Halloween Skin Care survival tips that are guaranteed to protect, refresh tired skin and revive your skin after a night of frights!
1st things 1st
If you are going to wear any highly coloured fancy dress make up, ALWAYS protect your skin. Yes even the good stuff needs a bit of skin preparation so make sure you apply a good barrier cream before you start for a less scary look the day after the night before. Try Kryolan Pro Shield Barrier Foam, which is designed to protect the skin.
Deep Cleansing Oils
Did you know that oils attract oil and nothing removes oil based make up than an oil based cleanser!
We just love Dermalogica PreCleanse. Just apply 2-3 pumps of Precleanse neat to your skin and massage in, add a little water and spookily even the hardest to remove Halloween make up is removed.
But remember that one cleanse is not enough, so follow up with a cleanser designed for your specific skin type. Why not ask one of our Dermalogica Skin Therapists to face map your skin and give you expert advice on what you should be using.
Hydrate Skin with Facial Oils
Heavy oil based makeup really takes a toll on your skin, so after you've removed your Halloween makeup and cleansed your skin, treat your skin to a hydrating and nourishing facial oil such as Phyto Replenish Oil.
This clever oil is formulated with a unique blend of oils that are lightweight yet feel non oily on the skin. It's great to revive and replenish dull skin and gives you a fresh dewy glow!
Use it under your moisturiser day or night for added hydration.
Halloween Masks
Avoid a scream-worthy breakout by treating your skin to a deep cleansing mask.
Dermalogica Charcoal Rescue Masque is an all-in-one treatment masque that detoxifies, brightens and invigorates normal to oily skin. It is formulated with activated Binchotan Charcoal that powerfully adsorbs impurities whilst Sulphur promoting cell turnover and dramatically brighter skin.
A fantastic pick me up that gives the skin a healthy-looking post Halloween glow.
Hydrate from within
Don't forget to keep your skin (and your body) hydrated with water.
Ensure that you are drinking the recommended amount of water throughout the day and night. If still water is not your thing, try infusing your water with fruit such as strawberries, lemons or cucumber.
Mysterious Mists
If you're not spritzing your skin you must give this a try as it's great for hydrating and soothing the skin.
A good alcohol free facial mist can boost your skin's hydrations levels to replenish the skin.
So if your skin is feeling a little sensitive after Halloween make up, why not try Dermalogica Ultra calming Mist. This soothing, hydrating mist that calms redness and sensitivity. When applied post-cleanse, it helps to protect the skin and restores your skin's balance during flare-ups.
So there you have it … a few little tips from our Dermalogica tool kit that will help your skin survive even the scariest of nights.
Quote of the day
"Double, double toil and trouble; Fire burn, and cauldron bubble."
William Shakespeare (Macbeth)