Get those festive lips ready for under the mistletoe
By Lisa Young – Salon Director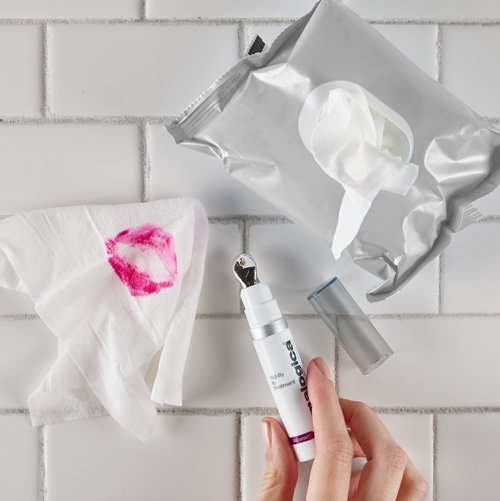 Party season will soon be upon us.
We all LOVE to get dressed up and party during the festive season.
Who couldn't resist a bit of sparkle, a fabulous pair of shoes and a killer dress for that perfect party look.
So ladies, whilst you are searching for that perfect party season LBD or that splash of indulgent sparkle, don't leave you beauty look to the last minute.
Plan ahead this party season. Make sure you have perfectly polished and plump festive lips for a smacking pucker up under the mistletoe.
Here is Studio 8's top tips on which shades to choose and how to make your lipstick last this party season!
Perfect Party Lip Preparation
Even lips need some love and attention when it comes to the festive season. A perfect base, free from dry skin and hydrated, will ensure your lips are super smooth and debris free.
Follow our easy steps before you apply your lipstick for kissable festive lips using some of your day to day Dermalogica Skin Care regime products:
Cleanse – start with a spot cleanse on the lips and remove any make up residue. We like Dermalogica Gentle Soothing Eye Makeup Remover as the silk amino acids in it super hydrate & smoothes the skin. It is so gentle it can also be used to gently remove make up from eyes. Dermalogica PreCleanse is also a great alternative but apply using fingers and remove using damp cotton wool.
Exfoliate – yes even lips need a good exfoliation. Get rid of dry flaky skin with a Dermalogica Daily Resurfacer pad. This clever little pad contains salicylic acid to resurface and exfoliate. It also has apple fruit and sugar cane to stimulate cell renewal and hyaluronic acid to hydrate. Sweep the pad over your lips and up and around the general lip area to both exfoliate and hydrate the lip area whilst reducing fine lines and wrinkles.
Moisturise & treat – with Renewal Lip Complex, which is a daily lip treatment that contains peptides to reduce the appearance of fine lines and combat the signs of ageing. Sweep across your lips and you will have the perfect lip base for a flawless lipstick application.
Treat your lips
Your festive lips deserve the very best treatment with mask. If fine line and wrinkles are your problem or if you need a bit of lip plumping look no further than Nightly Lip Treatment.
Nightly Lip Treatment is a perfect bedtime treat for lips by reducing the appearance of fine feather lines and wrinkles. It also helps restore skin volume on around the lips, and hydrates to improve skin elasticity and restore barrier function against visible signs of aging.
So if you're lips are in need of a plump and boost, look no further than this amazing product that will have your lips plump and youthful again.
And now ….. your party lips are ready for some beautiful colour !
Bold is the new nude
A statement lip is the must have look this winter (Check out the high streets for bombshell reds and rich berries lipstick this season).
Check out Mii Cosmetics power matte lip crème. A Flawless and flattering matte lip colour with a feather-like feel. Packed with sweet almond and jojoba oil, this budge proof formula helps lips to stay soft, moisturised and looking fabulously full. Choose from rich reds to deep plums for hours of deeply decadent matte colour.
Choose from supreme – a deep plum, Sensuous a powerful pink bordering on red, Imperial for a punchy bombshell red or even Eternity for those that dare to go almost there bare.
Tips for flawless lips
Does your lip colour flag after a few glasses of wine? Try this clever pro technique to keep those lips lasting until the end of the evening and into the early hours with our lip know how:
Prepare your lips so that they are debris free, clean and hydrated.
Choose a lip liner pencil in a colour closest to your chosen lip colour.
Outline and fill your lips.
Blot your lips on a tissue.
Reapply again in the same way.
Blot again with tissue.
Now apply your lip colour & Blot.
Reapply and voila you are done.
Perfect kissable lips for multiple mistletoe kisses.
Quote of the day
"Beauty, to me is being comfortable in your own skin. That, or a kick-ass red lipstick."
Gwyneth Paltrow