CACI Eye Revive – Maximum Results Quickly
By Lisa Young – Salon Director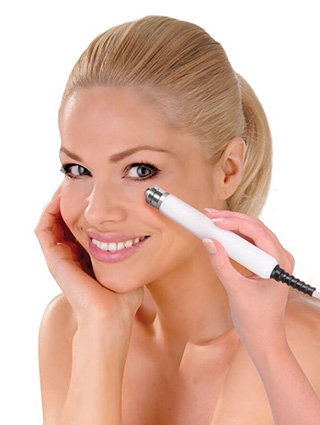 Are your eyes feeling tired and weary and in need of a pick me up ?
Suffer no more as the NEW CACI Eye Revive treatment is now available and the must-have salon professional treatment for anyone looking for anti-ageing treatments, as well as a way to reduce puffiness around the delicate eye area.
This gentle 30 minute treatment has the following benefits:
Soothes tired, puffy eyes.

Combats dark circles.

Reduces fine lines and wrinkles.

Lifts hooded eyes.
The treatment uses CACI's patented micro current eye rollers. This provides a cooling effect on the skin and gently tightens and tones sagging muscles around the eye area, whilst reducing the appearance of fine lines and wrinkles.
The perfect eye treatment to keep your eyes refreshed and revived.
The treatment uses professional strength skincare products that are also available for home use.
This NEW CACI treatment works in 2 ways:
The unique CACI Eye Revive eye rollers, infused with CACI Eye Revive serum and combined with micro current are rolled gently around the eye muscles to lift and tone the muscle. The gentle movement of the eye rollers combined with micro current aids lymphatic drainage whilst the CACI Eye Revive serum containing CACI REGU-AGE and other clinically effective ingredients such as Hyaluronic Acid and Seaweed extract are effective in helping to reduce puffiness by up to 31% and dark circles up to 35% (Based on an 8 week study of 20 subjects applying REGU®-AGE twice a day).

The treatment is completed with a Hydro Eye Mask, packed full of rejuvenating properties to detoxify, reduce puffiness and nourish the skin such as:

Hyaluronic Acid & cucumber extract to deeply nourish, cool and moisturise.

Red tea Extract to detoxify and reduce puffiness.

Collagen to plump and reduce the appearance of fine lines and wrinkles.
The CACI Eye Revive treatment is suitable for all skin types and has been created using clinically effective products that deliver impressive results to keep you looking refreshed and revived.
The treatment is really relaxing and great as a treatment on its own. It can also be incorporated to supercharge other CACI facial treatments such as the traditional CACI full face facial. It can even be used to add some variety and enhance results of the CACI Deluxe Eye Treatment. Please see our CACI Page for other CACI non-surgical treatments.
The treatment can also be used in conjunction with prescriptive facials to provide a combination of skin health and anti-ageing benefits.
If you would like to find out more about this new treatment or to book a treatment or CACI consultation please telephone Studio 8 Beauty on 02392 380692 or email us salon@studio8beauty.co.uk.
Quote of the week
"For beautiful eyes look for the good in others; for beautiful lips, speak only words of kindness; and for poise, walk with the knowledge that you are never alone."
Audrey Hepburn