Time for your body and skin detox
by Lisa Young – Salon Director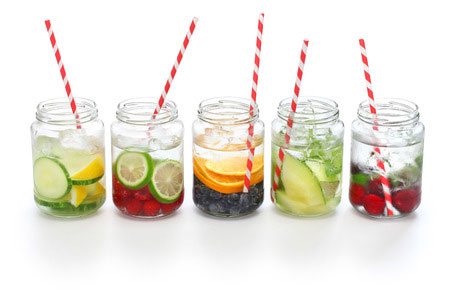 If after the festive season you are suffering like the rest of us from the over indulgence you may find that your skin is screaming out for help !
Parties, chocolate, alcohol and late nights, combined with air conditioning and central heating in our everyday life all impact your skin.
It's inevitable that all these take a toll on your skin as well as your waistline.
However, the great thing about January is that it provides the excuse to have a rest from a busy social calendar and give your skin the beneficial detox that it needs !
So if your skin is sending out SOS signals, it's in need of some TLC and a good old skin detox, what better time to do it than January !
So open your mind and read our hints and tips on how to book your skin into its very own detox and rehab program. Our expert tips will help to ensure that your skin feels great and looks glowing and vibrant again.
How do you know that you need a skin detox ?
Well, there are a few tell-tale signs that indicate when your skin is in need of help:
It may be feeling tight.
You may be suffering from breakouts and spots.
Products don't seem to work on your skin.
Your skin colour may appear uneven and blotchy.
Your skin has an overall dry and flakiness.
Did you know that your skin is the largest organ of the body ?
If you overload with rich food and alcohol, your body is unable to cope and becomes unhealthy. This toxicity caused through overindulgence can often manifest itself with skin conditions such as eczema, breakouts and redness.
The Impact of Everyday Pollution on the skin
If you think the festive season is the only blame for your skin problems, think again. Every day your skin is exposed to countless pollutants and stressors such as:
Smoke.
Fumes.
Sunlight (UVA / UVB).
In fact these pollutants are now one of the key causes of the visible signs of skin damage and premature skin ageing.
You will no doubt have seen the term "polluaging" being used in the skincare industry, which is their name for the damage that these pollutants cause to the skin. This very simply means that you can't avoid being exposed to toxins on a daily basis. So once these toxins accumulate, the body and skin's reaction means that your skin is no doubt calling out for some help.
So what can you do to detox ?
Water water water
Increase your water intake – Drinking enough water (minimum 6 – 8 glasses per day) promotes a healthier, hydrated, plumper and younger more radiant complexion. Water is great for general health as it aids:
Circulation.
Digestion.
Absorption of nutrients.
Excretion of toxins.
Reduce Caffeine
Reduce your caffeine – you don't need to give it up entirely as a little bit of what you fancy is fine in moderation. If you are an obsessive fan of Starbucks or Costa, try changing some of your favourite drinks to decaf if possible.
Use Antioxidant Skincare Products
Use antioxidant products in your skincare regime. We suggest Dermalogica Antioxidant Hydramist, an instantly tightening and hydrating antioxidant spritzing toner. Another product we recommend is Dermalogica Daily Superfoliant, which is a fantastic new product. It uses Binchotan Charcoal to deep clean, exfoliate and remove pollutants deep within your skin whilst resurfacing the skin to ensure that product penetrate into the skin is more effective.
Both products fight free radical damage and serve to shield the face from the elements. By preventing the toxins from penetrating the skin you are protecting against the breakdown of collagen . This means ultimately that the skin stays 'younger' for longer.
Reduce Alcohol intake
Alcohol inhibits your body's systems ability to cleanse itself by purging the toxins from your body and can really take a toll on skin health. Whilst alcohol in moderation is OK, try to avoid overdoing it especially on social occasions, which tends to take more of a toll than if you had drunk less more frequently.
Anyone for Sugar ?
Sugar is a real baddy when it comes to skincare as it can accelerate skin ageing. If you do have a sweet tooth, opt for natural alternatives such as honey and brown sugars, avoid refined white sugar.
Pack your diet with Antioxidant superfoods.
Here are the top 10 antioxidant foods to get you started:
Goji berries.
Wild blueberries.
Dark chocolate.
Pecans.
Artichoke.
Elderberries.
Kidney beans.
Cranberries.
Raspberries.
Blackberries.
Eat these every day to boost your intake of vitamins, minerals and other key nutrients to benefit the body and the immune system. A good balanced diet that covers all the food groups is highly recommended. You should ensure that you get plenty of fresh fruit and vegetables as well as nuts and berries to ensure that your skin glows.
Treatments to help detox the face & body
Detoxifying Facials
Treat your body and skin to regular detoxifying facials. A skilled therapist can provide a facial massage as part of the treatment combined with antioxidant ingredients to ensure that your skin is the best it's ever looked.
For an at home skin detox an absolute essential should include Dermalogica Charcoal Rescue Mask. This is a natural solution to treat both breakouts and blemishes as well as a fantastic anti-ageing treatment … a perfect all-rounder.
Detoxifying Body Treatments
You can't beat a good massage to aid circulation and lymphatic drainage, so whether you prefer a traditional Swedish massage or a hot stone massage these on their own can be very effective yet relaxing but combined with a mineral salt scrub combined with antioxidant aromatherapy oils you get a very powerful treatment to help you on your skin detox journey and give you a boost for the new year.
To find out more about treatments at Studio 8 Beauty, have a look through our treatment menu or call the salon to discuss. Look out for our limited edition treatments that add even more variety to your treatments and takes you on a sensory journey to awaken the body and mind.
Quote of the Day
"Do what you have to do until you can do what you want to do"
Oprah Winfrey