Studio 8 Beauty – Official Stockist for CACI Microlift

Currently out of Stock
Please enter your name, email address and the message CACI Microlift to express your interest.
What is CACI Microlift ?
Until now CACI facial toning technology has only been available at the world's leading Professional Beauty salons, Treatment Clinics and Spas. The CACI Microlift is a hand held personal facial toning device that enables you to experience the benefits of CACI facial toning technology in the comfort and convenience of your own home.
How Does CACI Microlift Work ?
Most home facial systems available use a high intensity electrical current to shock the facial muscles into a contraction spasm. The CACI Microlift does not work in this way. Instead The CACI Microlift emits low frequency, micro current impulses, that work in harmony with the body's bio-electrical field thereby making the treatment extremely comfortable for the user.
There are 2 steps to the treatment and with practice is achievable in 10 minutes:
Toning Program
It is the unique muscle gripping action of the CACI Microlift combined with the micro electrical impulses that trigger a stretch reflex response in the facial muscles to help restore muscle firmness. During the Toning Program extremely low frequency impulses stimulate and re-educate the facial muscles to improve tone and elasticity.

The Release technique is used in specific areas to relax tension in facial muscles that have become contracted and taut.
Wrinkles Program
The Wrinkles Program uses high frequency impulses to specifically target the skin tissue and to assist the penetration of the Electro Buds active ingredients helping to soften and reduce the appearance of fine lines and wrinkles.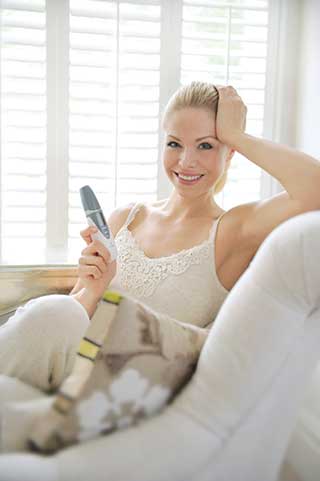 Will I feel the Treatment?
The CACI Microlift emits low frequency, micro current impulses, that work in harmony with the body's bio-electrical field thereby making the treatment extremely comfortable for the user. Occasionally, users with dry or sensitive skin may experience a mild tingling sensation but for most users the treatment has very little electrical sensation.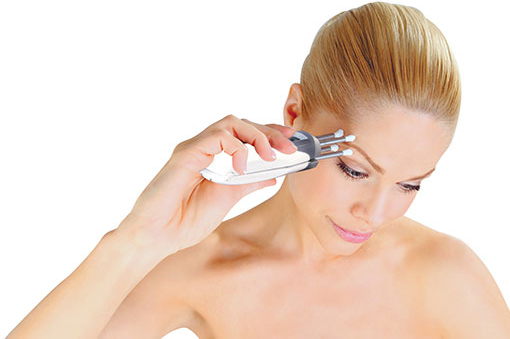 How Often Should I Use the Microlift ?
With practice just 10 minutes a day (on alternating days) is recommended i.e. average of 2-3 times a week.

What are the Benefits for the CACI Microlift ?
The CACI Microlift helps to lift and firm the face by re-educating facial muscles that have lost tone and elasticity. The Toning program is designed to help firm the jawline, plump the cheek area and lift the brow line.
The CACI Microlift can also be used to reduce wrinkle depth by relaxing facial muscles where repeated muscle contractions have caused expression lines and forehead furrows to form.
The Wrinkles program helps to soften the appearance of fine lines and improve skin texture to give a more youthful looking appearance.
Who is CACI Microlift for?
CACI Microlift is for:
√ Clients seeking a less powerful home anti-aging treatment.
√ Existing CACI Professional treatment Clients who want to maintain their professional treatment between monthly visits.
√ Great for professional treatment Clients who are time challenged due to work commitments to keep them going between treatments a little longer than usual.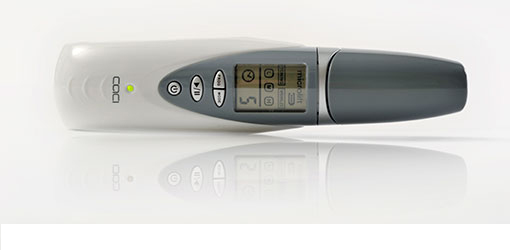 Does CACI Microlift Replace a Professional treatment?
CACI Microlift operates at a much lower level to a professional treatment so is not as strong as a full 10 treatment course & maintenance level professional treatment but is still great for maintaining a professional treatment between visits or to create a visible difference for a home treatment plan for those seeking an introduction to CACI or requiring a milder treatment that they can manage at home. The wrinkles programme allows for deeper penetration of moisturising products and age reversal products and stimulation of skin cells, collagen and elastin production so they appear younger, more supple and hydrated improving the appearance of the skin.
How Much Does it Cost?
CACI Microlift Unit is just £349.99***
***including a complementary CACI Ultimate (Red Carpet) Facial worth £90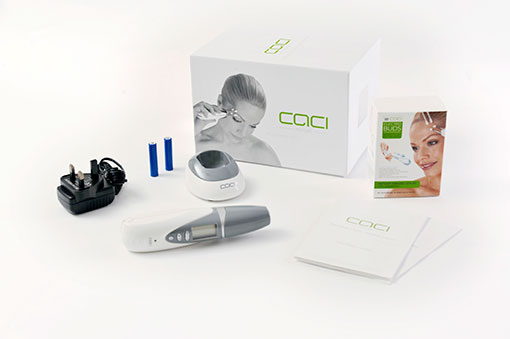 Why Should I buy from Studio 8 Rather than Online Retailer/CACI Microlift Direct?
Buying from Studio 8 has the following Benefits:
√ "Try before you buy" tester unit available in salon.
√ ***Price of your Microlift includes a complementary "CACI Ultimate (Red Carpet) Facial" (90mins) worth £90 which includes:
Cleanse and tone

CACI Professional Non-Surgical Face Lift

Microdermabrasion Treatment

Hydratone Mask Super Hydration Treatment

CACI Revolutionary Wrinkle Comb
√ You will receive "one to one" instruction on how to use the unit before you take it away by qualified CACI Professional Treatment Therapists who understand facial muscles and will teach you how you can get the most from your home treatment.
√ The Team are available for hints and tips and additional training help if you need further guidance on how to use your Microlift unit.
√ Consumables and available to purchase in salon.
To find out more about CACI Microlift please call or email the salon on 023 92 380692 or salon@studio8beauty.co.uk. Alternatively, you can pop into Studio 8 Beauty at Central Square, 1000 Lakeside North Harbour and speak to one of our CACI Therapists.